Boeing has no immediate plan to restructure its 787 manufacturing footprint despite announcing a major cut in production.
However, chief executive David Calhoun says Boeing will have time to review its manufacturing strategy in the coming years, as 787 production further declines.
The company on 29 April announced it will reduce 787 production from 14 aircraft monthly to 10 monthly this year, and then to seven jets monthly by 2022.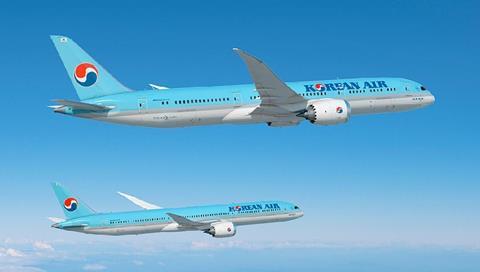 Previously, Boeing planned to cut production to 10 aircraft monthly next year but to increase the rate to 12 monthly in 2023. Boeing produces 787s at sites in Everett, Washington, and North Charleston, South Carolina.
"Certainty, both lines will be running" during the initial phase of reducing production to 10 787s monthly, Calhoun says.
"We haven't made any decision on the 787… production locations," he adds of production requirements after 2020. "We will have plenty of time to figure out exactly the way to go."
The latest production par back reflects the coronavirus downturn, which has hammered demand for commercial aircraft, especially for widebody jets.
Also on 29 April, Boeing announced it is cutting its workforce by 10%, or roughly 16,000 staff, due to the coronavirus downturn. Staff cuts in Boeing's commercial aircraft operation, including its services businesses, could top 15%, Boeing said.
The company also plans to reduce the production of the 777 and in-development 777X to three aircraft monthly in 2021. Boeing expects to deliver the first 777X next year.