Troubles with the 787 that have lasted longer than expected led Boeing to take a $3.5 billion charge in the fourth quarter of 2021, pushing the company to another full-year loss, this time to the tune of $4.3 billion.
Deliveries of the Dreamliner were suspended for most of 2021 due to manufacturing quality issues. Boeing is "continuing to perform rework on 787 airplanes in inventory" and is engaging with the US regulator "regarding required actions to resume deliveries", it says.
However, these actions are taking more time than previously anticipated. "In the fourth quarter, the company determined that these activities will take longer than previously expected, resulting in further delays in customer delivery dates and associated customer consideration," Boeing says.
"The programme is producing at a very low rate, and will continue to do so until deliveries resume, with an expected gradual return to five per month over time," it adds.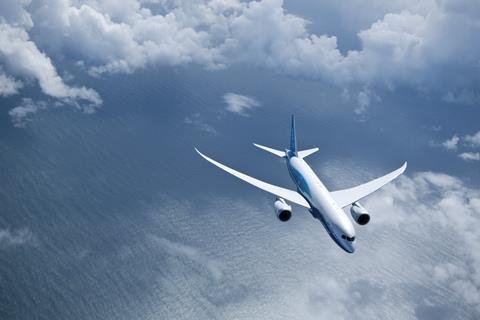 The news came as Boeing reported its full-year $4.3 billion loss, marking another year in the red for the airframer. Boeing lost $11.9 billion in 2020, due partly to massive charges taken against its 777X programme, and $636 million in 2019, the year regulators grounded the 737 Max.
"2021 was a rebuilding year for us, as we overcame hurdles and reached key milestones across our commercial, defence and services portfolios," says Boeing chief executive David Calhoun. "As the commercial market recovery gained traction, we also generated robust commercial orders, including record freighter sales.
"On the 787 programme, we're progressing through a comprehensive effort to ensure every airplane in our production system conforms to our exacting specifications," he adds.
Boeing's 2021 revenue came in at $62.3 billion, up 7% from 2020 but still well below levels prior to the triple pressures of the pandemic, the 737 Max crisis and the 787 issues. In 2018, before those troubles arose, Boeing was a $101-billion-revenue company.
Boeing managed to whittle its 2021 expenses down 7% from the previous year, to $59.3 billion. During the pandemic the company cut staff and reorganised operations. It also stopped making 787s in Everett, shifting all Dreamliner assembly to what had been a second site in North Charleston, South Carolina.
Boeing delivered 340 commercial aircraft in 2021, up from 157 in 2020.
By division, Boeing Commercial Airplanes posted a $6.5 billion 2021 operating loss, which reflects the $3.5 billion 787 charge. Boeing Global Services earned a $2 billion operating profit last year, while Boeing Defense, Space & Security earned $1.5 billion.