Boeing landed new orders for 130 aircraft in July, most of which were 737 airframes, with four cancellations.
The 130 new orders included 127 737 Max aircraft – 100 of which will go to Delta Air Lines, 25 to Qatar Airways and two to American Airlines, the Arlington, Virginia-based airframer said on 9 August.
In addition, the company landed orders for three 777F freighter aircraft: one for Fedex and two for Air Canada.
Offsetting those new deals were four cancellations: one 737 Max for an unnamed lessor, and three 787-9s for BOC Aviation.
The changes left Boeing's net new orders for July at 126 aircraft.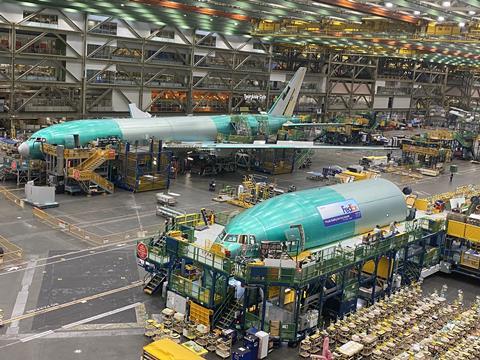 Boeing moved a net 31 aircraft from its special accounting bucket called ASC-606 back into the company's backlog during the month. ASC-606 houses orders that Boeing suspects might not close due to factors including buyers' financial conditions.
Boeing shifted 35 737s, one 777 and two 787s out of ASC-606 and back into its orderbook, and moved one 737 and six 787s into the ASC-606 category from its backlog, the airframer says.
The totals of the ASC-606 account now stand at 836, down from 867 airframes at the end of June.
Boeing delivered 26 aircraft in July, about half of the number it delivered a month earlier.
These July deliveries included 23 737 Max and three widebody jets. The widebodies included one 767-300F for FedEx, one 767-300F for Maersk and one 777F went to CES Leasing Corporation.
The month's orders, most of which were announced at the Farnborough air show, boosted Boeing's backlog to 4,370 aircraft at the end of July, up from 4,239 one month earlier.
The company's 737 backlog alone stands at 3,568, which includes 3,538 of the Max version, and 30 of the 737NG-based P-8 military surveillance aircraft.
For the year so far, to the end of July, Boeing took 416 orders. That total was 286 at the end of June. The company has logged 104 cancellations, up from a total of 100 a month earlier, leaving net orders at 312 aircraft, up from 186 at the end of June.
In the first seven months of 2022, thee airframer delivered 242 aircraft, comprising 212 737s, three 747s, 14 767s and 13 777s.
Boeing also says it has delivered 476 737 Max airframes since the type was ungrounded in late 2020.
The company did not hand over any 787s as deliveries of the type remained halted.
Deliveries of 787s have been paused for most of the last 17 months due to manufacturing quality problems, but the FAA said on 8 August that Boeing will resume deliveries "in the coming days" as the manufacturer "has made the necessary changes" to ensure that the 787 meets "all certification standards".
Boeing adds that it continues "to work transparently with the FAA and our customers towards resuming 787 deliveries".