Boeing has paused deliveries of some 737s due to a manufacturing error that will likely affect "a significant number" of in-production aircraft.
The US airframer said on 13 April that the problem is not a safety hazard for jets currently in service with customers, and that deliveries of some Max continue.
But the delivery disruption is another blow against the 737 and a further setback for Boeing, which was forced to temporarily stop deliveries of its 787 Dreamliners and 767s earlier this year due to what it called "quality issues".
"A supplier has notified us that a non-standard manufacturing process was used during the installation of two fittings in the aft fuselage section of certain 737-7, 737-8, 737-8-200 and P-8 model airplanes, creating the potential for a non-conformance to required specifications," the company says.
The 737-7, -8 and -8-200 are all variants of the new-generation 737 Max, while P-8 Poseidon maritime patrol aircraft are based on 737NGs.
"This is not an immediate safety-of-flight issue, and the in-service fleet can continue operating safely. However, the issue will likely affect a significant number of undelivered 737 Max airplanes, both in production and in storage," Boeing says.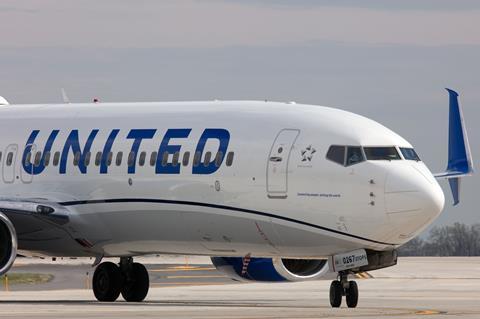 Earlier this week, the company said it delivered 52 737 Max and one P-8 in March. To date this year, it has delivered 113 737s.
Boeing says it has notified the Federal Aviation Administration of the anomaly and is "working to conduct inspections and replace the non-conforming fittings where necessary".
"We expect lower near-term 737 Max deliveries while this required work is completed," the company adds. Boeing does not say how long that work will take.
The Arlington, Virginia-headquartered manufacturer has 4,555 aircraft in its backlog, including 3,585 737s, of which 3,562 are for the Max version and 23 are for the older-generation 737NG.
United Airlines, which according to Cirium fleets data holds outstanding orders for more than 400 737 Max, says Boeing is "keeping us informed about the issue".
"At this time we do not expect any significant impact on our capacity plans for this summer or the rest of the year," United adds.
The Chicago-based airline operates 101 of the type, of which 45 are the -8 version. United said last week it was expecting an average of two new aircraft per week to enter the fleet this year.
Southwest Airlines, another big Max customer, says its deliveries will likely be affected.
"Boeing contacted us regarding an issue with a supplier's manufacturing process that will affect the delivery of Boeing 737 Max planes to Southwest," the low-cost carrier says. "We expect this to impact our current delivery schedule. We are in discussions with Boeing to understand what that impact will be in 2023 and beyond."
In January Southwest said it held firm orders for 192 Max 7s and 235 Max 8s, and options for 137 Max 7s or 8s, for a total of 564 airframes due for delivery through 2030. In March the airline said it was expecting 90 aircraft to join its fleet in 2023.
The 737 Max has a rocky history, and was grounded for almost two years after two crashes in 2018 and 2019 killed 346 people.
In 2022, Boeing delivered 387 737s, up from 263 in 2021. Boeing does not disclose month-by-month production figures, saying only that its 737 lines are running at a 31-per-month rate. Aerospace analysts estimate 737 production actually, however, hovered around 25 jets monthly in 2022.
This story has been edited to add that Boeing has paused delivery of some – not all – Max jets and that the airframer is continuing to deliver aircraft that conform to specifications.