Boeing marked a fourth consecutive month of positive order activity in May, with orders jumping by 20 aircraft despite dozens of additional cancellations.
The Chicago-based airframer landed orders for 73 jets during May and logged 53 cancellations, it says on 8 June.
The 73 orders included 61 737s, among them 13 Max 9s for Alaska Airlines, 34 Max 7s for Southwest Airlines and 14 Max for aircraft lessor SMBC Aviation Capital, Boeing says.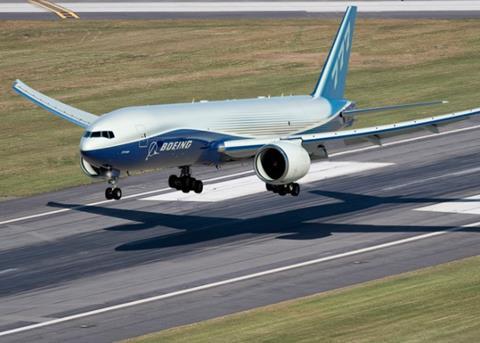 Boeing also landed orders in May for five 787-9s from Lufthansa, one 777 Freighter from Lufthansa Cargo and six 777Fs from an unidentified customer or customers.
"We are working closely with our customers as they adjust… fleet requirements," Boeing says. "Although market recovery trends continue to be uneven… we are seeing customers order airplanes for replacement and potential growth."
Boeing's 53 cancellations in May included five 787-9s that had been ordered by an unidentified buyer or buyers, 14 737 Max orders that had been held by Norwegian and 34 Max orders that had been held by Aeromexico.
Also in May, Boeing removed 73 aircraft from its ASC-606 accounting bucket. Boeing places orders in that category when it suspects the orders will not close due to factors including the financial condition of buyers. Boeing removes jets from the bucket when either the orders are cancelled or when the company no longer considers the sales to be at risk.
During May, Boeing delivered 17 aircraft, bringing year-to-date deliveries to 111 aircraft.
The May deliveries included six widebodies, among them one 747-8F delivered to UPS, two 767Fs and one 777F delivered to FedEx, one 787-8 delivered to Uzbekistan Airways and one 787-9 delivered to Atlantis Aviation.
Additionally, Boeing delivered 10 737 Max in May: one jet to Aeromexico, one to financial company 777 Partners, two to Fiji Airways, three to lessor BOC Aviation and three to Southwest airlines. Boeing also delivered one 737NG-based P-8 Poseidon maritime surveillance jet to the US Navy.
The airframer is not currently delivering 787s due to a fuselage-quality issue.
The May changes bring Boeing's backlog to 4,121 aircraft, including 3,291 737s, 11 747s, 93 767s, 290 777s and 436 787s.
Year-to-date, Boeing has scored 380 orders and 283 cancellations.
Since the Federal Aviation Administration lifted the 737 Max's grounding in November 2020, 173 of 195 global regulators have cleared the 737 Max to fly in their airspace, Boeing says. Globally, 23 operators have Max in service.