The Federal Aviation Administration has learned of a new manufacturing problem found on the nose section of some undelivered Boeing 787s – an issue that Boeing must address before delivering the jets.
"The FAA is aware of a manufacturing quality issue near the nose on certain 787 Dreamliners in the company's inventory of undelivered airplanes," the FAA says in a 12 July statement. "This issue was discovered as part of the ongoing system-wide inspection of Boeing's 787 shimming processes required by the FAA."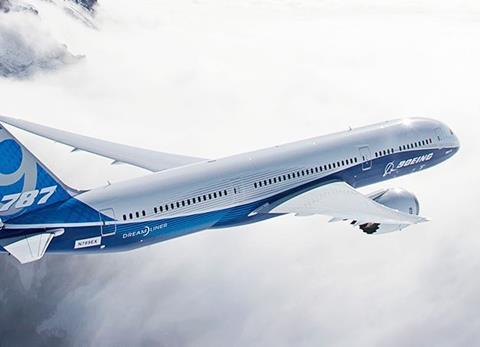 Boeing stopped 787 deliveries in May due to issues related to the flatness of 787s skins. The airframer has said skin flatness at areas of the aft fuselage did not meet tolerances equivalent to the width of a human hair. Shimming is one method of addressing skin-flatness problems, Boeing has said.
Also in May, the FAA said it was reviewing a Boeing-proposed algorithm that was part of the company's process for inspecting 787 manufacturing problems.
Deliveries remain halted and the FAA has not said when it will green light Boeing's algorithm.
Now the FAA discloses the existence of another problem, this one involving the front of the jets.
"Although the issue poses no immediate threat to flight safety, Boeing has committed to fix these airplanes before resuming deliveries," the FAA says. "Based on data, the FAA will determine whether similar modifications should be made on 787s already in commercial service."
The FAA does not provide additional details about the problem or say how many jets are affecting.
Boeing declines to comment, deferring to the FAA.
Boeing most recently said it had about 100 undelivered 787s in its inventory. The airframer first stopped 787 deliveries in October 2020, also due to skin-flatness problems. It had resumed deliveries in March.