Supersonic aircraft developer Boom Aerospace is reportedly negotiating to secure state funding to open a manufacturing site for its future airliner Overture at Greensboro Triad International airport in North Carolina.
North Carolina's governor recently signed an appropriations law providing $106.75 million in economic development funding "for a high-yield project for an airplane manufacturer" at the airport.
The bill does not specify the manufacturer's name, but Raleigh media outline The News & Observer reports on 8 December that the company the funding targets is Denver-based Boom.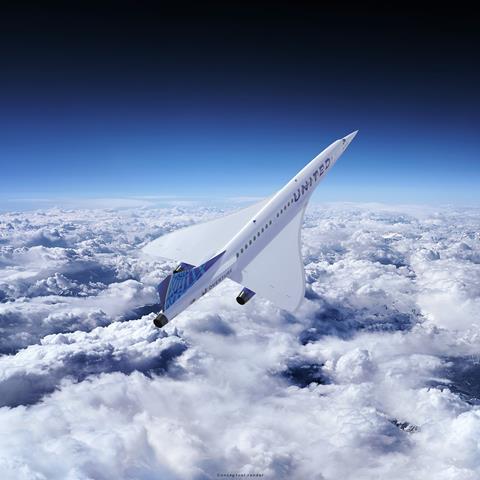 FlightGlobal has been unable to confirm the report.
Boom says it "does not comment on speculation or rumours", and two North Carolina lawmakers did not respond to requests for comment. The News & Observer's report attributes the information to five unnamed people in government and business.
This year, Boom said it intended to select, before year-end, a site at which to manufacture Overture, and to break ground on the site in 2022. Boom aims to roll out Overture in 2025, complete first flight in 2026 and begin passenger flights in 2029.
The $106.75 million set aside by North Carolina includes $56.75 million earmarked for "construction of one or more new hangars" at Triad International for the project. It also includes $35 million for related "roadwork" and $15 million for unspecified "site work". The funds are for appropriation in North Carolina's fiscal year 2021, which started on 1 July.
The bill says the site's employees will earn an average of at least $60,000 annually. The News & Observer reports the project is expected to generate at least 1,750 jobs and at least $500 million in investment. If the state completes the deal with Boom, construction of the new facility could start in 2022, it adds.
Boom rolled out a supersonic demonstrator called XB-1 in October 2020, and has planned for that aircraft to complete first flight in 2021. The company intends to flight test the single-pilot XB-1, which is powered by triple GE Aviation J85-15 engines, from the Mojave Air & Space Port in California.
The demonstrator is to lead Boom to develop Overture, a conceptual Mach 2.2 airliner with 4,250nm (7,871km) of range and capacity for 65 to 88 passengers, according to the company. An early Boom customer is United Airlines, which in June said it agreed to purchase 15 of the conceptual Overture jets. United declined to say how much money it put down as part of that deal.
A former Boom competitor, Aerion, had also embarked on a plan to open a new manufacturing site, in Melbourne, Florida. But Aerion, which was developing a supersonic business jet called AS2, failed in May amid financial troubles.