Brazilian airframer Embraer ended 2021 on a high note, posting total revenue of $4.2 billion, up from $3.8 billion in 2020.
The San Jose dos Campos-headquartered company says, however, that fourth quarter revenue was lower than during the same period a year ago, falling to $1.3 billion during the final three months of the year, compared to $1.8 billion in 2020.
That decline comes as a result of the company delivering fewer jets in the final quarter of the year – 55 compared to 71 in the same period in 2020.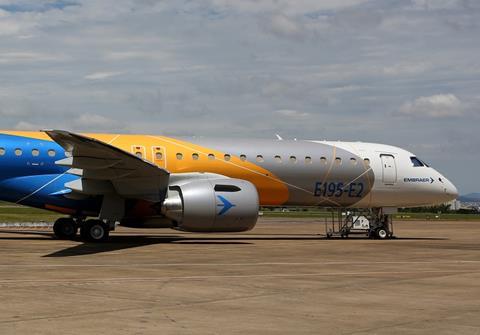 Embraer says, though, that it earned a profit of $2.1 million in the fourth quarter of 2021, compared to a $3.3 million loss in the same quarter in 2022. For the full year, the airframer's loss shrank to $44.7 million, from $732 million in 2020.
The company's commercial aviation unit reported 2021 revenue growth of 18%, to $1.32 billion, due to higher E195-E2 deliveries in 2021, and higher prices, Embraer says.
"The E-Jets E2 family (especially the E195 E2) representing 44% of deliveries in 2021, compared to 25% of total deliveries in 2020," the company adds.
Executive aviation jets' 2021 revenue rose 5% year-on-year, to $1.13 billion, driven by higher deliveries and higher prices also.
All told, the airframer delivered 141 jets during the year - 48 commercial aircraft and 93 executive jets (62 light and 31 mid-size). In 2020, the company delivered 130 aircraft in total.
At the end of 2021, the company's backlog stood at $17 billion – the highest since the second quarter of 2018.
For 2022, the airframer expects to deliver 60-70 commercial jets and 100-110 business jets. The company's revenue target is in the range of $4.5 billion to $5 billion, Embraer says.
The company will host a webcast on 10 March to detail its fourth quarter and 2021 results.