Some employees of De Havilland Canada have returned to work, marking a resumption of operations six weeks after the company shuttered facilities due to the coronavirus pandemic.
The move reflects a broader trend under which aerospace manufacturers are gingerly restarting operations.
Toronto-based De Havilland, which produces Dash 8-400 turboprops, has commenced "a phased return to work" and a "measured resumption of activities", it says.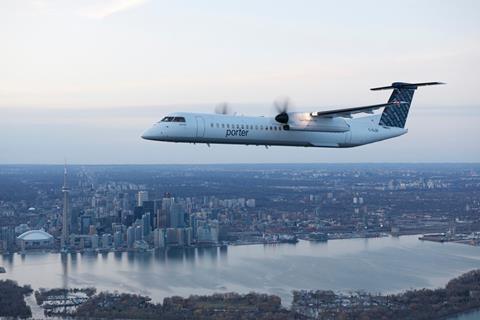 De Havilland and sister company Viking Air suspended operations on 20 March, moves causing "temporary layoffs" of some 800 De Havilland staff and 180 Viking employees, says parent company Longview Aviation Capital. "Some of the impacted employees at De Havilland returned to work today," Longview adds.
Viking has not resumed operations.
"In the first phase, approximately 100 employees have returned to work and De Havilland Canada is focused on resuming pre-flight activities and delivery of Dash 8-400 aircraft," De Havilland says.
The resumption "reflects market demand and is being undertaken in consultation with customers".
De Havilland chief operating officer Todd Young says the company will be "adjusting the business to reflect the current market demand… We will proactively manage costs and streamline our operations in all areas of the business."
Other manufactures have likewise rebooted operations in recent weeks, or have unveiled plans to restart work. For instance, Boeing resumed commercial aircraft production late last month and Bombardier intends to resume manufacturing on 11 May.
Longview says Viking is "ascertaining market demand for the Twin Otter, but we are confident given its ability to continue providing critical support during these challenging times that it will remain a pillar of strength in the regional aviation market".
Story updated on 4 May to include clarification from Longview about layoffs and the status of Viking's production.