De Havilland Aircraft of Canada has landed an agreement to supply Peruvian airline ATSA with a Dash 8-400 F-LCD freighter, a heavily modified aircraft equipped with a large cargo door.
The Canadian manufacturer rolled out the F-LCD conversion programme and two other freighter-conversion options for Dash 8s in 2022, a time when many Dash 8s were hitting the used-aircraft market.
De Havilland does not say when it expects to deliver the modified turboprop to ATSA but says the aircraft will make the airline the first South American operator of the Dash 8-400 F-LCD.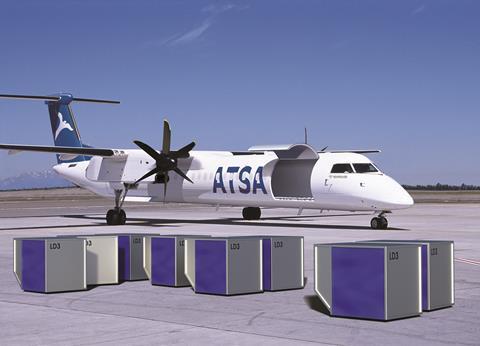 De Havilland says ATSA will provide the aircraft for the conversion.
"As an experienced operator of the Dash 8-400 aircraft, we have first-hand knowledge of its outstanding performance capability to support our expanding cargo operations in Peru's mining sector," ATSA president Carlos Cueva says. "Our country's complex geography… make the Dash 8-400 aircraft the ideal choice for this type of operation."
ATSA already operates two Dash 8-400s and several each of Antonov An-32s, Fokker 50s, Beechcraft 1900Ds and King Airs, according to Cirium fleets data.
In July 2022, during the Farnborough air show, De Havilland revealed it was offering three new Dash 8-400 cargo-conversion options. Those include the Dash 8-400 QC (quick change), a configuration allowing operators to install temporary cargo nets in aircraft passenger cabin, and the Dash 8-400 PF (package freighter), a conversion involving removing passenger seats to accommodate cargo.
The other – the Dash 8-400 F-LCD (large cargo door) – is a more-involved modification programme under which De Havilland equips the turboprops with a 2.7 x 1.8m (8.9 x 5.9ft) cargo door, which allows them to carry cargo containers or pallets.
De Havilland has said the modifications are completed via Canadian-approved service bulletins.
ATSA flies to Peruvian cities including Chachapoyas, Huánuco, Lima, Mazamari, Pucallpa and Tarapoto, according to its website.
Story updated on 1 February to note that ATSA will provide the aircraft.