De Havilland Aircraft of Canada will temporarily stop producing Dash 8s and begin vacating its Downsview Toronto production site in the second half of 2021.
The company disclosed the changes on 17 February, calling the move a production "pause".
But De Havilland insists it remains committed to the Dash 8 turboprop, saying it is investing in product upgrades and intends to restart production as soon as possible.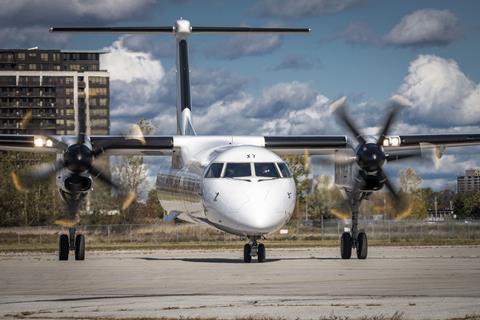 "Given that prevailing industry circumstances have hindered the ability to confirm new aircraft sales, De Havilland Canada will not produce new Dash 8-400 aircraft at its Downsview site beyond currently confirmed orders," the company says on 17 February. "Approximately 500 employees will be affected by the production pause."
De Havilland describes the decision as "a responsible and prudent measure that reflects current industry conditions, and will limit strain on the market and De Havilland Canada's supply base as the pandemic recovery occurs".
De Havilland does not specify how many outstanding firm Dash 8 orders it holds or specify when work at Downsview will stop. The company also does not respond to a request for comment.
However, Cirium fleets data shows that De Havilland holds 17 Dash 8-400 orders from airlines including Biman Bangladesh Airlines, Canadian aerial firefighting company Conair, Nigeria's Elin Group, Ethiopian Airlines, Philippine Airlines, the government of Tanzania and TAAG Angola Airlines. De Havilland delivered 11 Dash 8s in 2020, it says.
De Havilland assembles Dash 8s at a leased facility in the Downsview section of Toronto. The lease expires in 2021, though De Havilland has previously said the lease can be extended until 2023.
"Accordingly, De Havilland Canada has begun preparing to leave the site over the latter part of the year. There are a number of excellent production site options in Canada, and the company will be ready to meet new aircraft demand as the industry recovers," De Havilland says.
The airframer's parent Longview Aviation Capital acquired the Dash 8 programme from Bombardier in May 2019 for about $300 million.
"We fully expect worldwide demand for the Dash 8 to return once the industry has recovered from the pandemic," says David Curtis, Longview executive chairman. He says the turboprop's performance and operating economics will make it "an important part of the aviation industry's post-pandemic recovery".
The company insists it intends to "resume new aircraft delivery at the earliest possible time, subject to market demand".
Also on 17 February, De Havilland outlined several "enhancements" it is making to the Dash 8 programme.
Those include "investing significant capital" in the Dash 8's customer support and information technology systems so as to reduce operating costs.
De Havilland is also developing Dash 8 upgrades and modifications, among them "cabin refurbishment features" that include overhead bin extensions.
"While the pandemic has ravaged the global aviation industry, De Havilland Canada is making future-oriented investments in its organisation, systems and infrastructure to enhance the Dash 8 platform for current and future aircraft operators," the company says.
Story updated on July 26 2021 to note that Longview purchased the Dash 8 programme for about $300 million, not $250 million, which was the amount of net proceeds Bombardier expected to receive from the sale after subtracting liabilities, fees and closing adjustments.