Express shipment airline DHL Express has ordered four 767-300 Boeing Converted Freighters – passenger jets that the airframer will modify into cargo aircraft.
The companies, which announced the deal on 22 July, say the order reflects the strength of the express package delivery market and will help DHL modernise its long-haul fleet.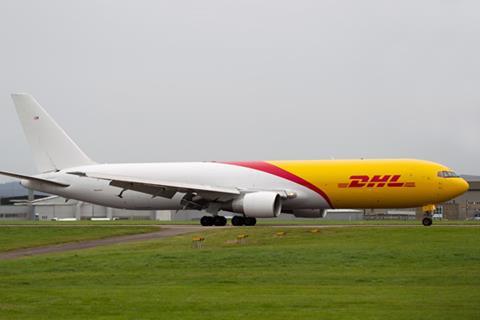 DHL already operates purpose-build 767Fs, a type with similar capabilities as Boeing's converted 767s, according to Boeing.
The conversions will begin in the fourth quarter and all four aircraft will be completed by the fourth quarter of 2021, DHL says. Boeing defers additional comment to DHL.
The 767-300BCFs can carry 45,400kg (100,000lb) of payload and have a 186,880kg maximum takeoff weight and roughly 3,000nm (5,560km) of range, according to Boeing.
The Chicago-based airframer has received orders for 51 767-300BCFs, though the DHL orders are the first of 2020.
The company has delivered 40 767-300BCFs since handing over the first of the type in 1989, according to Cirium fleets data.
Story updated pon 23 July to include the timing of the conversions, per DHL.