Air taxi developer Eve became a publicly traded company on 9 May, completing a process set in motion by Eve's former parent Embraer.
Melbourne, Florida-based Eve went public by combining with an already-public shell company called Zanite Acquisition, Eve says on 9 May.
It becomes the latest in a string of companies working in the so-called urban air mobility (UAM) industry to complete public stock listings. Others have included Lilium, Archer Aviation, Joby Aviation and Vertical Aerospace.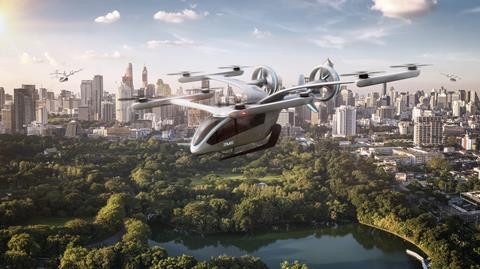 "The closing of this transaction sets us on a path to further develop and commercialise our comprehensive UAM solution," says Eve co-chief executive Jerry DeMuro. "Our skilled team, world-class board and extensive strategic global partnerships provide superior positioning for Eve."
Through the go-public process, Eve raised $357 million by selling shares to investors including Embraer and a consortium that includes aerospace manufacturers and airlines, the company says.
Embraer holds 90% of Eve stock, it says.
Fellow Eve co-CEO Andre Stein says the transaction provides "capital and strategic support for Eve to play a pivotal role in accelerating the global UAM ecosystem".
Eve is developing an electric vertical take-off and landing (eVTOL) aircraft that will carry four passengers and have 54nm (100km) of range, it has said.
The company aims to achieve type certification and service entry in 2025 or 2026.
Story updated on 10 May to note that Embraer holds 90% of Eve stock.