Despite the coronavirus crisis, Embraer has not seen customers cancel any aircraft orders and has high hopes that demand for its regional jets will remain solid as the industry recovers.
"We have been negotiating the postponement of deliveries but we haven't had any cancellations so far," Embraer chief financial officer Antonio Garcia told a 1 June first-quarter earnings call. "We have been working hard with our customers to adjust those deliveries."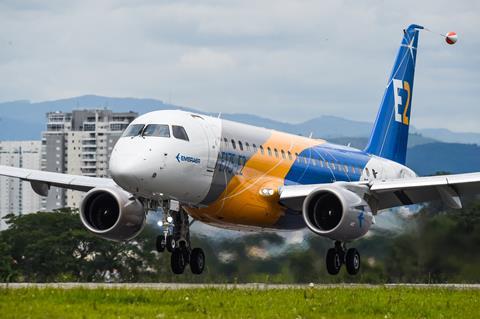 Although the company's executives struck a positive tone, the Sao Jose dos Campos-based airframer recorded a $291 million loss in the first three months of 2020, on revenue down 23% year on year, to $634 million. By comparison, Embraer lost $41 million in the same period a year earlier.
During the first quarter, Embraer delivered five commercial aircraft, including three E175s, one E190-E2 and one E195-E2; it shipped 11 aircraft in the same period last year.
Embraer's first-quarter commercial aircraft revenue slipped 50% year on year, to $141 million, and the company's commercial aircraft backlog stood at 318 E-Jets at end-March.
Garcia says first-quarter deliveries tend to be historically "weaker" than in other periods. He also notes that Embraer delivered no commercial aircraft in January due to preparations related to the sale of its commercial business to Boeing.
Boeing had agreed to purchase that business for $4.2 billion, but the US airframer backed out of the deal in late April – a move that Embraer executives said caught them unawares.
Embraer hopes that demand for regional jets will remain strong as the commercial aviation industry begins to recover.
"Key markets in the Americas and US are reopening, and they are using smaller regional jets," Garcia says, adding that regional aircraft will "lead the way".
Embraer delivered nine executive jets in the first quarter, including five light jets (which include Phenom 300s) and four large jets (which include Legacy, Lineage and Praetor aircraft). Revenue from the company's executive jet business increased 10% year on year to $130 million.
Embraer's new Phenom 300E recently received certification from regulators in Brazil, Europe and the USA.
Garcia insists that, despite sagging deliveries, Embraer remains financially strong, with sufficient cash on hand.
"The company's liquidity remains solid despite all these adversities… Our debt profile is very comfortable," he says, noting Embraer does not have "major" debt payments due before 2022. "We have additional credit lines available."
Embraer ended March with cash and cash equivalents valued at $2.4 billion.

Jonathan Hemmerdinger is Americas managing editor for FlightGlobal, covering all aspects of aviation, with a particular focus on the companies that make commercial aircraft and their suppliers. He formerly covered business for Maine's largest newspaper. Before that, he worked at Independence Air
View full Profile