Brazilian airframer Embraer delivered 32 commercial and executive aircraft in the second quarter of 2022 – a significant improvement from its delivery pace in the first quarter of the year.
The company's second-quarter handovers included 11 E-Jets, among them eight first-generation E175s and three second-generation E195-E2s, Embraer reports on 25 July.
Additionally, Embraer delivered 21 executive aircraft in the three months ending in June, including two Phenom 100s, 10 Phenom 300s, five Praetor 500s and four Praetor 600s, it says.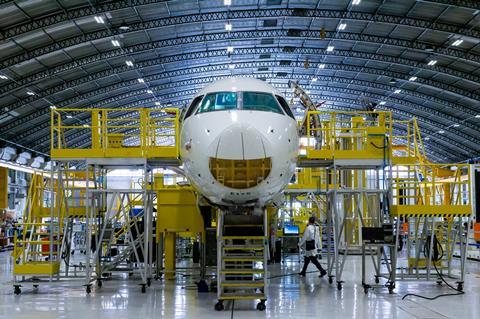 The figures show notable improvement by Embraer in the number of aircraft it has been getting into customers' hands.
By comparison, Embraer delivered just 14 aircraft in the first quarter of the year – a period it called "atypical". Those deliveries included six E-Jets and eight executive aircraft.
Embraer said first-quarter deliveries were minimal because it stopped production in January to accommodate work related to reintegrating its commercial aircraft business.
Embraer had split out that business ahead of a planned sale of the operation to Boeing. But Boeing backed out of the deal in April 2020.
The second-quarter deliveries were down only slightly from the same period of 2021, when Embraer delivered 34 aircraft, including 14 E-Jets and 20 executive jets.
In the first six months of 2022, Embraer delivered 46 aircraft, including 17 E-Jets and 29 executive aircraft. It ended June with a backlog including 312 commercial aircraft, among them 143 E175s, three E190s, three E190-E2s and 163 A195-E2s.
By comparison, Embraer's backlog included 306 commercial aircraft at the end of June 2021.