Embraer has landed its first firm order to convert passenger-configured E-Jets into freighters, a deal coming about three months after the Brazilian airframer launched its conversion programme.
An unnamed customer has signed a contract to acquire "up to" 10 E-Jet Passenger-to-Freight (P2F) conversions, with deliveries of the modified jets to begin in 2024, Embraer says on 24 June.
The converted jets will come from the unnamed customer's existing fleet of E-Jets, Embraer adds.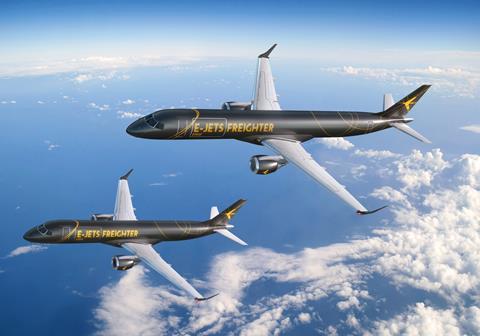 The company has not disclosed which E-Jet variants will be converted under the agreement. It offers E190 and E195 conversions under the P2F programme.
"This is the first firm contract for Embraer's P2F, being the second agreement for this kind of operation," Embraer says.
In May, Irish aircraft lessor Nordic Aviation Capital signed an "agreement in principal" to have Embraer convert of its 10 E-Jets into freighters, also with deliveries to start in 2024.
At the time, Embraer said Nordic was the conversion programme's launch customer. Neither Embraer nor Nordic responded immediately to questions about the status of that agreement.
Embraer revealed its E-Jet P2F programme on 7 March. Offering conversions will let Embraer capitalise on what it sees as surging demand for cargo jets due to a rapidly expanding e-commerce market, the company has said.
Embraer has called E-Jets excellent replacements for ageing narrowbody freighters, saying the E-Jets' cargo capabilities sit between those of ATR turboprops and Boeing 737-300s. The E190F will be capable of carrying up to 10,700kg (23,000lb) of payload, while E195F's will have a 12,300kg payload limit, according to Embraer.
The company is performing conversions at its facilities in San Jose dos Campos, Brazil. The work involves equipping the jets with main-deck cargo doors, cargo handling systems, floor reinforcements, rigid cargo barriers and new smoke detection and air management systems, the company says.
Embraer estimates demand exists for conversions of 380 E190s and 90 E195s, according to its website.