Gary Spulak, the longtime president of Embraer's US business, retired from the Brazilian airframer at the end of 2020, Embraer confirms.
Spulak, who joined Embraer nearly 40 years ago, had been president of Fort Lauderdale-based Embraer Aircraft Holding, the company that encompasses Embraer's substantial US operation.
The Brazilian airframer has not named a successor but says Spulak will retain some of his previous responsibilities as an advisor.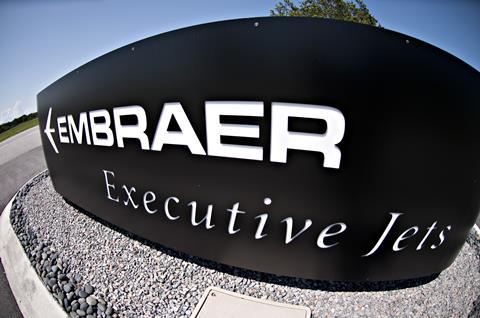 "This matter is being addressed internally and a decision is expected after the formal transition process is completed," Embraer says of Spulak's potential replacement. "More about the organisational structure of Embraer North America will be shared in coming months."
Spulak will "continue supporting Embraer as senior advisor to top management", overseeing corporate affairs and government relations, the company adds.
He also will "retain his positions" on the boards of Embraer Aircraft Holding, innovation arm EmbraerX and Eve Urban Air Mobility Solutions, a developer of air taxi technology.
Embraer Aircraft Holding has several large operations in the US. Its Fort Lauderdale presence includes corporate offices and a commercial aviation service centre and parts facility.
In Melbourne, Florida, Embraer produces Phenom business jets, completes Praetor business jets and operates a service centre and an engineering centre dedicated mostly to business aircraft. Melbourne is also home to EmbraerX and Eve.
Embraer also has service centres in Mesa, Arizona and Nashville.
Spulak joined Embraer in 1983 as vice-president of product support and information technology, a role in which he supported the Bandeirante and Brasilia commercial aircraft programmes. He became executive vice-president in 1991 and president in 1998.