Embraer overcame broad supply-chain issues to finish 2022 strong as aircraft deliveries surged in the fourth quarter.
The Brazilian airframer earned $23.1 million in the fourth quarter, compared with a $3 million profit in 2021, the company reported during its quarterly earnings call on 10 March.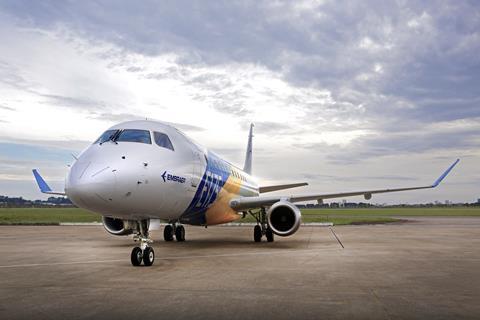 "Last year was marked by overcoming several challenges – the war on Ukraine, higher inflation rates and supply-chain restrictions," chief executive Francisco Gomes Neto says. "But given our team effort, focus and discipline in executing strategic plans, we have managed to reach our goals."
Revenue reached $2 billion in the fourth quarter of 2022, 53% higher than the same quarter in 2021, when the company generated $1.3 billion.
Embraer delivered 80 jets in the fourth quarter – 30 commercial aircraft and 50 executive jets.
The company maintained a firm order backlog totalling $17.5 billion at the end of the fourth quarter – a $500 million year-on-year increase thanks to "an expanding book-to-bill in executive aviation and service and support", the company says.
For the full year, Embraer lost $43.5 million in 2022, compared with a $204 million loss the previous year. Revenue reached $4.5 billion, up from $4.2 billion in 2021.
Embraer delivered a total of 159 jets in 2022 – 57 commercial aircraft and 102 executive jets – representing a nearly 13% increase compared with 2021 "even with significant supply chain constraints", the company says.
SUPPLY CHAIN ISSUES
Embraer is anticipating continued supply-chain issues throughout 2023, but that the problems will ease next year, Neto says. "This year will have some challenges in the supply chain and things will go back to normal, we hope, in 2024."
"We believe things will improve this year, but not completely," he says. "Our aircraft production is limited because of the number of engines we will be receiving."
Aircraft parts are also widely delayed, which will "impact delivery times and inventory levels", he adds.
"Engines are very critical items, of course," Neto says. "But there are other issues as well – hydraulic systems and other pieces of equipment."
In the fourth quarter, Embraer delivered the first new-generation E195-E2s to Canadian regional carrier Porter Airlines, kicking off E-Jet operations in North America.
Those jets are powered by PW1900G geared turbofans made by Pratt & Whitney. P&W and competitor CFM International, which makes engines for A320neos and Boeing's 737 Max, have reported production shortfalls caused partly by lack of sufficient quantities of cast-metal engine components.
"We have been in close contact with Pratt & Whitney to address these issues," Neto says. "There are plans underway to provide short-term support and solutions for the long term."
For 2023, Embraer forecasts delivery of 65 to 70 commercial aircraft and 120 to 130 executive jets, and revenue between $5.2 billion and $5.7 billion.