Embraer remains optimistic about the recovery in the aviation industry after the carrier sold more of its new-generation E195-E2 commercial jets and more large executive jets during the third quarter.
The San Jose dos Campos-based airframer says on 5 November that it posted revenue of $958 million during the third quarter, 26% higher than the $759 million it achieved in same quarter last year.
The company reported a quarterly loss of $45 million, owing mainly to interest expenses and one-off costs. That's an improvement over the $121 million loss it posted in the same quarter in 2020.
"The results are in-line with internal expectations," says chief executive Francisco Gomes Neto. "Figures in the third quarter continue to indicate that our strategic planning and executing discipline are generating concrete positive result for the company."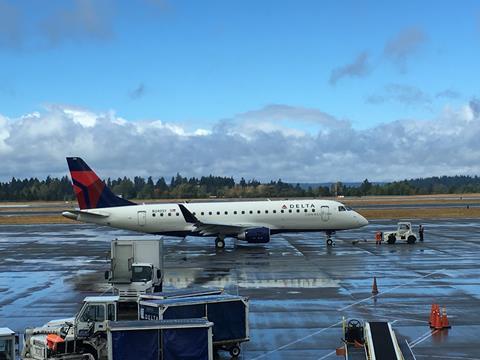 "Our third-quarter results and year-to-date results strengthen our confidence in our strategy," he adds.
So far this year, the airframer has delivered 32 commercial jets, a 100% increase over the same time last year. In the executive jet segment, the company has delivered 54 aircraft, 25% over the same period in 2020.
"Commercial aviation revenue growth was driven by higher deliveries, while executive aviation growth was due to a more favorable mix of deliveries in [the third quarter of 2021] with large jets representing one third of deliveries in the quarter, versus large jets making up roughly 10% of deliveries in the third quarter of 2020," the company says.
Revenue for the commercial aviation segment during the three months that ended on 30 September grew almost 37% to $242 million, while executive aviation revenues were up 21% at $256 million.
Embraer's backlog at the end of the third quarter was $16.8 billion, the highest quarter-end backlog value since the end of 2019, the company says.
During the third quarter of 2021, SkyWest Airlines ordered 16 new E175s which will fly for Delta Air Lines' Delta Connection, with deliveries beginning in mid-2022. SkyWest also flies the type for United Airlines, American Airlines, and Alaska Airlines. The carrier currently has 193 E175s in its fleet and another 29 on order.
"Combining those airplanes and these 16 new E175s, once delivered, SkyWest will have nearly 240 E175s, the most of any airline in the world," Gomes Neto adds.
Also, during the third quarter, Embraer said that its new-generation E2 jet now serves London's City airport. Switzerland's Helvetic Airlines began operations to the airport with its E190-E2.
"Nonstop flights between [London City] and far-away cities like Istanbul, Casablanca and Moscow are now possible, opening opportunities for further penetration of the aircraft in the European market," Embraer adds.
The airframer finished the quarter with total cash of $2.5 billion and net debt of $1.8 billion.
For the full year, the company expects to deliver 45-50 commercial aircraft and 90-95 business aircraft, and to take in between $4 and $4.5 billion in revenue