Embraer's electric air taxi development subsidiary Eve plans to become a publicly traded company by combining with blank-check firm Zanite Acquisition, with Embraer retaining 82% of the resulting company's equity.
As part of the deal, several other companies intend to invest in Eve, including BAE Systems, Rolls-Royce and US regional airlines Republic Airways and SkyWest, Embraer says on 21 December.
Those companies and others also signed letters of intent to order a combined 500 of Eve's in-development electric vertical take-off and landing (eVTOL) aircraft, and Eve plans to evaluate a military eVTOL variant in partnership with BAE, it says.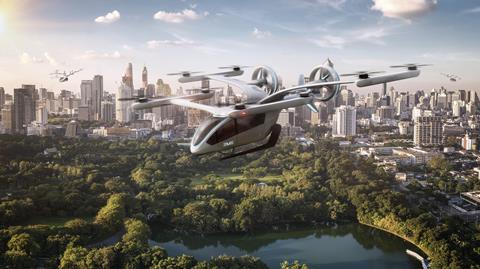 The go-public plan involves combining with Cleveland-based Zanite, a special-purpose acquisition company (SPAC), also known as a blank-check firm. SPACs are public companies formed for the purpose of merging with, and bringing public, promising start-ups.
The boards of Embraer and Zanite have approved the merger. They expect it will close in the second quarter of 2022.
Eve, based in Melbourne, Florida, is among a host of eVTOL developers to pursue go-public plans via SPACs in recent years.
"We selected Eve because of its simple and certifiable eVTOL design, its capital-efficient approach to fleet operations and Embraer's global footprint," says Zanite co-CEO Kenn Ricci.
Eve will emerge from the combination as "Eve Holdings", trading on the New York Stock Exchange under the symbol "EVEX". The deal will leave Eve with an estimated $512 million in cash and worth $2.4 billion, Embraer says.
"Cash proceeds raised in the transaction are expected to be used to fund operations, support growth and for general corporate purposes," Embraer adds.
The $512 million in cash will come from $237 million from Zanite and $305 million in private investment in public equity (PIPE) funding, offset by $30 million in liabilities held by Embraer and due to funding partners.
Of the $305 million, $175 million will come from Embraer, $25 million will come from Zanite's sponsor and $105 million will come from a consortium. That consortium includes Florida aircraft lessor Azorra Aviation, BAE, Brazil's Banco Bradesco, UK asset manager Falko Regional Aircraft, R-R and regional carriers Republic and SkyWest, says Embraer.
"With this business combination, Eve is very well positioned to become one of the major players in this segment," says Embraer chief executive Francisco Gomes Neto.
As part of the changes, Embraer has tweaked Eve's leadership. Andre Stein, who had been Eve CEO and has worked decades for Embraer, is now co-CEO. Jerry DeMuro, former CEO of BAE, is now also Eve's co-CEO, Embraer says.
"The transaction announced today with Zanite is a major milestone that will accelerate our strategic plan and support us in realising our vision," Stein says.
Eve has targeted having its eVTOL in passenger service by 2026.
Also on 21 December, Eve disclosed it has landed non-binding orders for 500 more air taxis.
SkyWest intends to order 100 aircraft, and Republic and Azorra intend to buy up to 200 each. Republic says it plans to operate the eVTOLs in the central and eastern USA, including in Boston, New York and Washington, DC.
In all, 17 customers have signalled their intent to purchase 1,735 of Eve's in-development eVTOLs – deals worth a combined $5 billion, Eve says.
Additionally, Embraer Defense & Security and BAE agreed to jointly study development of an eVTOL for defence and security missions, the companies say on 21 December. They will "explore how a defence variant could be used for a range of applications, such as personnel transportation, surveillance and reconnaissance, disaster relief and humanitarian response".
Story updated on 21 December to note that Eve's shift to having two co-CEOs is already effective.