Sao Paolo-based Embraer announced a profit of $74 million dollars in the second quarter of 2022, the company said in a 4 August earnings call.
That represents a decline compared to the same period in 2021, when the Brazilian jet manufacturer posted a net income of $87.9 million. The drop was largely driven by increasing costs and a nearly 10% decline in revenue year-over-year.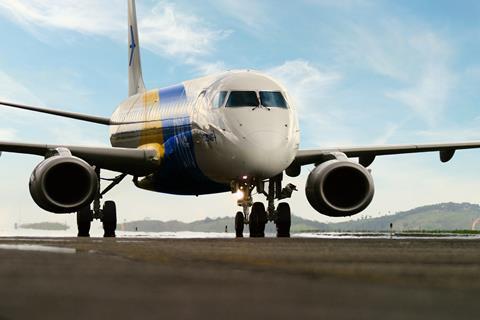 Embraer says the revenue dip, to $1 billion in the second quarter of 2022 from $1.1 billion in the same three-month period last year, was the result of lower deliveries in both its commercial and defence businesses. The decline was partially offset by higher revenues from services and support.
Despite the headwinds, the company's leadership remains optimistic for the rest of the year. Executives note that while the first quarter of the year was "very bad" for Embraer, the company is still on track to meet previously released annual guidance targets of delivering 60 commercial aircraft and 100 executive jets this year.
Part of that optimism stems from Embraer's healthy backlog of orders, which reached an all-time high for the post-pandemic era of $17.8 billion – a 3% increase from the previous quarter and a 12% jump compared to last year.
Those figures do not include 20 firm orders placed by Canadian regional airline Porter, which in July added 20 E195-E2 jets to an existing firm order for 30 aircraft. Porter has the option to purchase up to 50 more E195-E2s.
Total deliveries from Embraer rebounded in the period, reaching 11 commercial and 21 executive jets. That figure is more than double the 14 deliveries reported by the company in its disappointing first quarter, executives add.
Embarer says the turnaround in deliveries, combined with a growing backlog, indicate that the outlook for future growth is "very positive" and the company is still within its previously stated commitments to the market.