Embraer's Eve Urban Air Mobility spin-off has clinched a letter of intent with Miami-based Global Crossing Airlines Group to acquire up to 200 electric vertical take-off and landing (eVTOL) aircraft, with deliveries scheduled for as early as 2026.
Eve disclosed the deal on 16 March, saying it now has 1,785 eVTOLs in its backlog.
"We will base the aircraft from our new line maintenance facility at Fort Lauderdale-Hollywood International airport," Global Crossing chief executive Ed Wegel tells FlightGlobal shortly after news of the agreement broke. "We intend to use the aircraft to connect cruise passengers with our charter flights at Miami International airport and [Fort Lauderdale-Hollywood International airport]."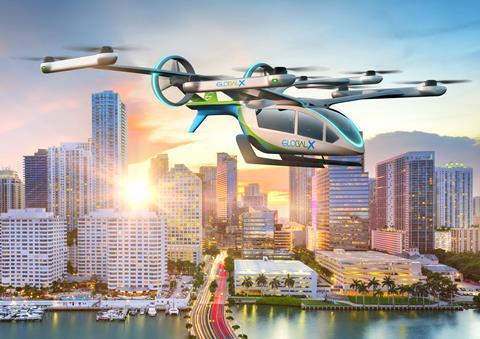 Global Crossing, which operates under the brand GlobalX, joins SkyWest Airlines, Republic Airways, Kenya Airways, and aircraft lessor Azorra as Eve customers.
GlobalX is establishing bases in Miami, Las Vegas and Atlantic City, and intends to launch a cargo division this year with converted A321 Freighters.
In addition to connecting with GlobalX flights, Wegel envisions expanding air taxi operations as battery improvements allow for additional range. For instance, he says, eVTOLs could carry passengers from downtown Miami to Marathon, Key West, and in the Florida Keys – reviving services once offered from Miami Seaplane Base by carriers like Chalks Ocean Airways and Tropic Ocean Airways.
Wegel foresees air taxi flights across southern Florida, connecting cities that are 60-120min apart by car. Such routes could include Miami or Fort Lauderdale to Naples or Palm Beach. "As the technology evolves with greater range, we can operate to islands in the Bahamas," says Wegel. Such routes also lost air service long ago.
GlobalX might chose to directly market its eVTOL services, and directly sell tickets to consumers.
The airline also intends to use eVTOLs to ferry crews and maintenance personnel between its Miami crew base and a new Fort Lauderdale facility scheduled to open this year. At Fort Lauderdale, GlobalX expects to have a hangar capable of accommodating three A320s, and a training centre with an A320 flight simulator.
The consortium seeks to "better understand Miami-Dade's unique operating environment, establish a more-detailed flight profile, address community concerns and determine how charging infrastructure… can be safely built into a future UAM ecosystem," Eve says.
Even as Eve targets an ambitious 2025 certification, technical details of its eVTOL are scant. It aims to begin deliveries in 2026.
Story updated on 16 March to include more details about GlobalX's Fort Lauderdale plans.