Boeing will notify nearly 7,000 employees this week that their jobs will be eliminated as part of a 10% companywide staff reduction that targets the aerospace giant's commercial aircraft business.
The layoff notices follow Boeing's announcement last month that it would reduce its 160,000-strong global workforce by about 10%, or 16,000 staffers, due to the coronavirus downturn.
Boeing said reductions could hit 15% of its commercial aircraft workforce.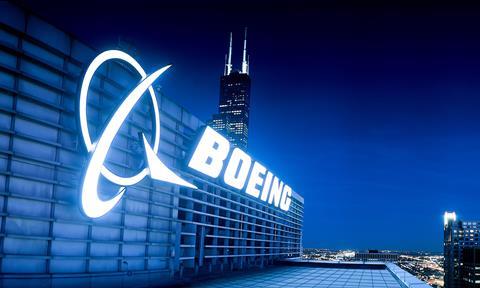 The company has already approved voluntary separations of 5,520 workers.
This week it will notify another 6,770 employees that their jobs have been eliminated, Boeing chief executive Dave Calhoun says in a 27 May letter to employees.
The company will "provide all the support we can" to affected workers, including severance payments and career transition services, he says.
The initial 6,770 layoffs "represent the largest segment" of Boeing's planned staff cuts, but "several thousand remaining layoffs will come in additional tranches over the next few months", says the company.
Boeing's non-US operations are also "working through workforce reductions".
"The Covid-19 pandemic's devastating impact on the airline industry means a deep cut in the number of commercial jets and services our customers will need over the next few years, which in turn means fewer jobs on our lines and in our offices," Calhoun writes.
In response, Boeing has said it will cut 787 production to seven from 14 aircraft monthly by 2022 and slash 777 output to three from five aircraft monthy in 2021. It intends to build 737 Max at a rate of 31 aircraft monthly in 2021, down from a pre-grounding output of 53 Max monthly.
Despite job cuts, Calhoun sees "green shoots" of optimism.
"Some of our customers are reporting that reservations are outpacing cancellations on their flights for the first time since the pandemic started. Some countries and US states are starting cautiously to open their economies again," he says. "Some parts of our business, most notably on the defence side, will continue hiring to meet customer commitments and fill critical skill positions."