Boeing took new orders for 63 aircraft in November amid a bump in demand for its troubled 737 Max.
Order conversions and cancellations however, pushed down Boeing's total commercial aircraft backlog by 13 aircraft, to 5,444 at the end of November.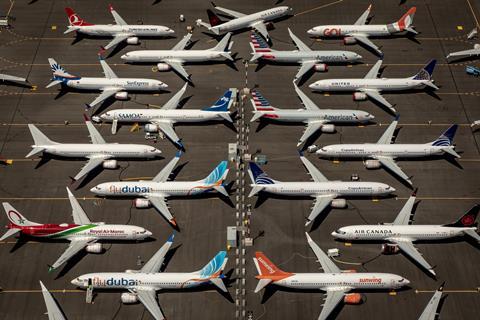 The 63 new orders included 20 737 Max aircraft booked by an unidentified customer and 10 737 Max ordered by German-Turkish leisure carrier SunExpress.
An unidentified customer also cancelled orders for two 737 Max business jets, and an order conversion by lessor CALC Aircraft Assets removed another eight Max from Boeing's order book.
With those changes, Boeing's 737 order book increased by 18 aircraft in November, to 4,405 – the first time this year that the Max backlog has gone up, the company says. The 737 Max remains grounded.
Boeing's number of 787s on order jumped by 20 aircraft in November, ending the month at 542, while Boeing's 777 backlog declined by 45 aircraft, to 383.
During the period, Emirates converted 30 777X to 30 787-9s, and Boeing also reduced Emirates 777X order book by 11 aircraft, from 126 to 115, due to contract "revisions", Boeing says.
Additionally, lessor CACL ordered two 787-9s in November via the 737 Max conversion. Boeing also recorded one new 787 order, and one 787 cancellation, during November, both from undisclosed customers.
Boeing ended November with 97 767s and 17 747s on backorder.
Between January and November, Boeing took orders for 243 aircraft, but cancellations and conversions have reduced year-to-date net orders to 56.
Boeing delivered 24 aircraft in November, bringing total 2019 deliveries to 345 aircraft.
The November deliveries included two 737-800-based P-8 naval patrol aircraft, one 747-8 Freighter, three 767-based KC-46A military tankers, two 767-300Fs, four 777s and 12 787s, the company's figures show.
Ninth paragraph corrected to revise aircraft types