Some of Textron Aviation's planned aircraft deliveries for 2022 will likely slip into 2023 due to supply chain problems, costing the company several hundred million dollars in revenue.
"We continue to experience supply chain disruptions, labour supply shortages and Covid-related impacts across our businesses," Textron chief executive Scott Donnelly says on 28 July.
"We'll probably miss some deliveries, as things push out into 2023," adds Donnelly, who spoke during Textron's second-quarter earnings call on 28 July.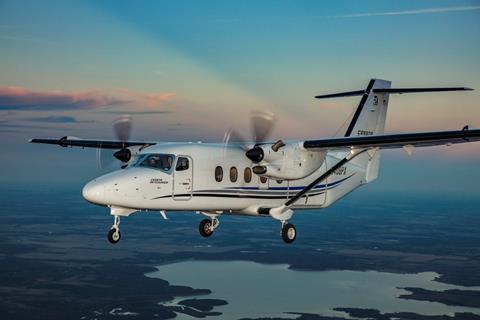 Textron Aviation owns airframers Cessna and Beechcraft.
Donnelly does not specify how many aircraft deliveries might be affected. He says the delivery delays could cost Textron "a couple of hundred million dollars" in lost 2022 revenue.
Engine shortages are the top supply problem facing Textron Aviation, says Donnelly. He does not identify a particular engine or aircraft model.
"The challenge is just getting enough people and suppliers to deliver the parts," Donnelly adds
He also notes that aerospace suppliers are struggling with labour shortages, and says Textron itself is hiring about 100 people monthly.
Donnelly is among several executives who in recent days reported aerospace supply and labour problems. Others include chief executives of Boeing, General Electric and Raytheon.
Troubles aside, Textron Aviation earned a $155 million profit in the second quarter of 2022, up from $96 million on year earlier.
In the second quarter, the Wichita-based airframer delivered 83 aircraft, including 48 jets and 35 commercial turboprops. By comparison, Textron Aviation delivered 77 aircraft in the second quarter of 2021, including 44 jets and 33 commercial turboprops.
Helicopter maker Bell, also a Textron subsidiary, turned a $63 million profit in the second quarter. That figure is down roughly half from Bell's second-quarter 2021 profit, reflecting a steep reduction in revenue from military customers.
Bell delivered 34 commercial helicopters in the second quarter, down from 47 one year earlier.