Qatar Airways has ordered 34 Boeing 777-8 Freighters, becoming the type's first customer and marking Boeing's launch of 777-8F development.
Doha-based Qatar has also taken options to acquire another 16 777-8Fs, and ordered two first-generation 777Fs.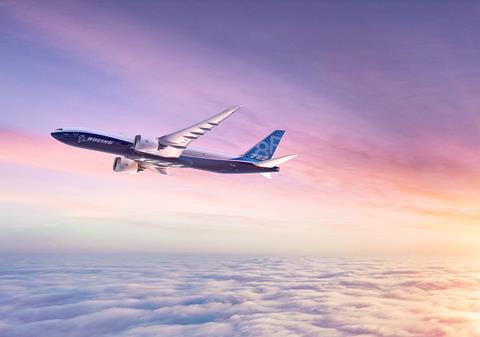 Additionally, Qatar signed a memorandum of understanding to acquire up to 50 of Boeing's in-development 737 Max 10s, Boeing and Qatar say on 31 January.
The order marks a shift by Qatar closer to Boeing and away from Airbus at a time the airline is locked in an A350-related dispute with the European aircraft manufacturer.
Of Qatar's 34 777-8F orders, 20 are conversions of Qatar's existing orders for passenger 777X, Boeing says. Qatar expects to receive its first 777-8F in 2027.
"The 777-8 Freighter will be the largest, longest-range and most-capable twin-engine freighter in the industry," Boeing says. "With payload capacity nearly identical to the 747-400 Freighter and a 25% improvement in fuel efficiency, emissions and operating costs, the 777-8 Freighter will enable a more-sustainable and -profitable business for operators."
Boeing Commercial Airplanes chief executive Stan Deal and Qatar chief executive Akbar Al Baker signed the deal on 31 January during a ceremony at the White House.
The 777-8F component's value is $20 billion at list prices, making it "the largest freighter commitment in Boeing history by value", the airframer says.
Boeing confirms the 777X Freighter will be based on its 777-8, which is smaller than the baseline 777-9. The company previously intended for the 777-8 to be a passenger aircraft, but shelved that programme in 2019.
Boeing's first 777X – the 777-9, a passenger jet – remains in the certification process, with the airframer aiming to deliver the first by late 2023. All 777X have GE Aviation GE9X powerplants.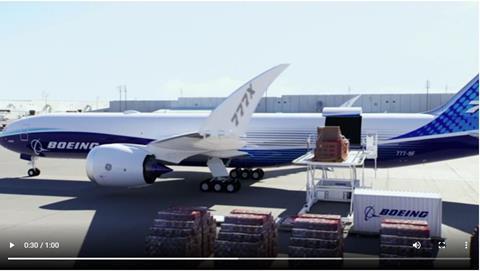 The 777-8F will have 4,410nm (8,167km) of range, payload of 112,300kg (247,580lb), and a 365,160kg maximum take-off weight, Boeing says. It will have composite wings spanning 71.8m (235.6ft) and capacity to carry 31 cargo pallets on its main deck and 13 in its lower hold.
The "777-8Fs Freighter… will not only allow us to further enhance our product offering for our customers, but also help us meet our objectives to deliver a sustainable future for our business," says Al Baker.
Qatar's 737 Max 10 memorandum of understanding lays out the airline's intention to order for 25 of those jets and to take rights for the purchase of another 25 – a deal potentially worth $7 billion at list prices, Boeing says.
The 3,300nm-range 737 Max 10 remains in development, with Boeing aiming to begin delivering the type in 2023.
The Max 10 is "ideally suited to our short-haul network", allowing Qatar "an opportunity to further enhance our product offering for our customers, modernise our fleet and operate the most-efficient aircraft in its category," Al Baker says.
Prior to today, Qatar held orders with Boeing for 60 777X and 23 787-9s, and with Airbus for 23 A350s, according to Cirium fleets data.
Currently, Qatar's only narrowbody aircraft are 34 A320-family types. Its widebody fleet includes 15 A330s, 53 A350s, 10 A380s, two 747-8Fs, nine 777-200LRs, 26 777-200Fs, 51 777-300ERs, 30 787-8s and seven 787-9s, Cirium shows.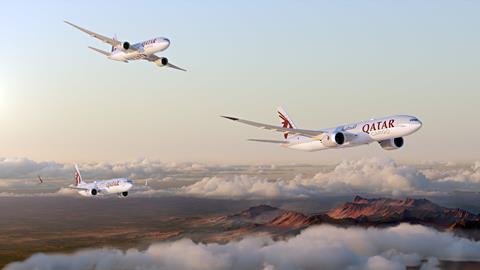 Qatar's deal with Boeing comes amid a row between the airline and Airbus. News broke in 2021 that Qatar grounded A350s due to what it described as quality shortcomings involving the jets' paint – allegations Airbus has called inaccurate.
Qatar sued Airbus in a London court last December, and in January Airbus disclosed it had cancelled orders by Qatar for 50 A321neos.