Conversion of a former Qantas 747-400 into a flying testbed for Rolls-Royce is lagging behind schedule as the status of the progamme remains unclear.
R-R In October 2019 announced it had acquired the Jumbo (VH-OJU) from Qantas and had appointed US aerospace engineering specialist AeroTEC to perform an "extensive two-year transformation".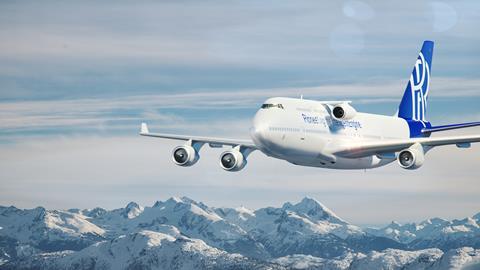 But that timeframe has already elapsed without signs of progress. The 747, now registered as N747RR, remains on the ground in Moses Lake, Washington, at Grant County International airport, and last flew on 15 March 2020, according to flight tracking and Cirium data.
Both R-R and AeroTEC declined to comment on the status of the project.
While programme delays during the pandemic are understandable, two sources familiar with the programme say R-R and AeroTEC have changed at least some aspects of the modification effort, including the plan to mount test engines from a structure extending from the top left of the aircraft's fuselage. Those sources spoke on condition of anonymity.
When acquired by R-R, the RB211-powered 747-400 was coming off a nearly 20-year career with Qantas. The jet had logged 92,400 flight hours and 9,400 cycles since its delivery in January 2000, according to Cirium fleets data.
R-R said it would spend $70 million on the project, including the cost of the aircraft and the modifications, turning the Jumbo into "a flying digital hub", enabling the firm to test "cutting-edge technologies".
"As a flying testbed, it will be fitted with the latest testing capabilities and, for the first time, will test engines which power both commercial and business aircraft," R-R added. "New systems will obtain better data faster than ever before, and technologies will be tested at higher altitudes and faster speeds."
R-R already operates a 747-200 (N787RR) as a flying testbed.
Story clarified on 16 December to note that the aircraft has been as Grant County International airport.