US business jet maker Gulfstream declines to comment about a report saying it will soon launch two new business jets.
Industry publication The Air Current reported on 1 October that Savannah-based Gulfstream is poised to develop a new ultra-long-range model that may go by the handle "G800", and a smaller aircraft, perhaps called the "G400".
The Air Current does not disclose sources, and Gulfstream does not confirm nor deny the report.
"Gulfstream has not made an announcement," the company tells FlightGlobal.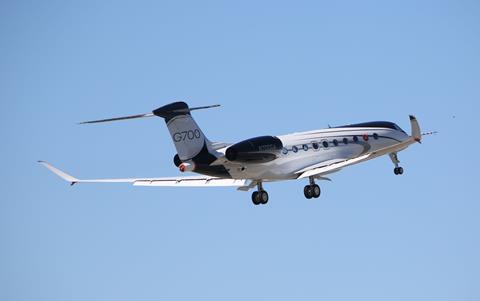 Gulfstream adds, however, that it is hosting a live-streamed "special Gulfstream announcement" at 20:00 local time on 4 October. It has not disclosed the topic of that announcement.
Aerospace analysts note that for years rumours have swirled that Gulfstream might develop a new upper-middle-sized jet – something like, perhaps, a "G400" – to fill a gap in its portfolio.
That gap is between Gulfstream's 10-passenger, 3,600nm (6,667km)-range G280 and its 19-passenger, 5,200nm-range G500, says Teal Group analyst Richard Aboulafia. A new model in that opening would compete with two ageing models. Those include Bombardier's Challenger 650, which entered service in 2015 but is based on a jet that first flew more than 40 years ago, the Challenger 600. The other is Dassault's Falcon 2000S and 2000LXS, based on an aircraft that entered service in 1995.
That segment "has the most low-hanging fruit in the industry", Aboulafia says, estimating Gulfstream could sell such a jet at a price in the mid-to-upper $30-million range. "You shouldn't be able to find a 20-dollar bill on the pavement, but that 20-dollar bill has been lying there for some time."
Striking now in the medium-size segment makes sense for Gulfstream because Bombardier is laden with a "difficult balance sheet" and Dassault is busy developing two jets, the Falcon 6X and 10X, Aboulafia says.
Business aviation consultant Brian Foley sees a "G400" as "sitting kind of squarely on top of the G280", which Gulfstream manufactures in partnership with Israel Aerospace Industries. That jet entered service in 2012 and has enjoyed so-so sales, with some 220 jets delivered, according to Cirium fleets data.
In 2020, Gulfstream made a point of knocking down industry speculation that it was considering replacing the G280. "Our commitment to the G280 remains strong. The rumours are… not true," Gulfstream president Mark Burns told reporters on 30 March.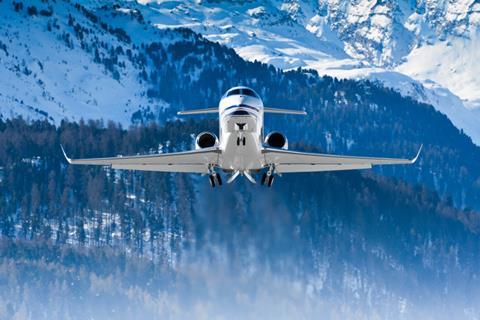 A new large-cabin jet like a "G800" would sit aside Gulfstream's in-development G700, a soon-to-be-flagship 19-passenger jet advertised to have 7,500nm of range. Analysts remain unclear about the potential capabilities of a "G800", saying it could perhaps have more range or a larger cabin.
A decision by Gulfstream to launch a new large-cabin jet might "kill any hope" by Bombardier of launching its long-teased Global 8000. Montreal-based Bombardier launched its 8000 in 2010 alongside the 7000, which became the 7500. Since launch, the 8000 project has seemingly remains stalled while Bombardier brought the 7500 to market.
A new large Gulfstream jet could also help the US airframer counter Dassault's 10X, which is set to enter service at the end of 2025. Powered by R-R Pearl 10X turbofans, the $75 million 10X will have 7,500nm range and the widest cabin in its class.
Foley, whose firm is Brian Foley Associates, calls the 10X the "queen of the sky, until something else comes up".
He suspects a new large-cabin jet from Gulfstream surely "spells curtains" for its G650, a model that entered service in 2012 and is ready for a refresh.
Foley speculates Gulfstream is positioned to bring efficiency and cost savings to its next aircraft programmes, whatever they might be. That is because the airframer has in recent years been shedding "legacy manufacturing techniques" and otherwise streamlining production. "Going forward, they will be teed up nicely by having a product that is less costly to produce," he says.
Story corrected on 6 October 2021 to change one instance of "G280" to "G800".