Russia's aerospace industry has ambitions to manufacture more than 300 aircraft over the next two years, as it grapples with the pressure that has been piled on the sector by sanctions over the Ukrainian conflict.
But most production in 2023 will comprise helicopters, as airframers seek to catch up with sanction-related delays to the main airliner programmes.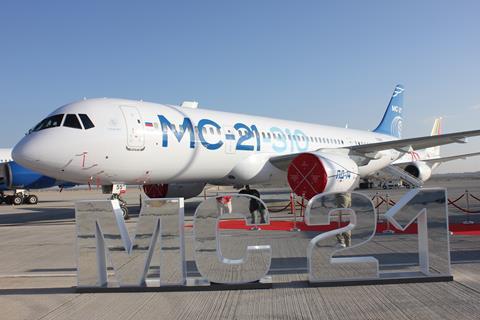 The government had already been moving to shore up its domestic manufacturing, adopting a policy of import substitution, to introduce more Russian-built components into its aircraft and reduce dependence on foreign suppliers.
But international sanctions, by blocking access to crucial technologies, have forced a need to hasten this transition.
REVISED STRATEGY
Russia's aircraft manufacturing union SAP has newly drawn up a revised strategy for aircraft production to the end of the decade.
It states that Russian aviation companies were operating 1,160 passenger aircraft in April 2022, and 700 were leased from foreign companies – almost all of which were then absorbed into the Russian registry. Foreign aircraft accounted for some 95% of passenger traffic.
SAP lists plans to build 138 domestic aircraft in 2023, although 85 of them will be Mil helicopters – including nearly 70 Mi-8s – while 20 Aircraft Industries L-410 turboprops will account for almost all of the airliner output.
But in 2024, according to the SAP strategy, production of the Irkut SSJ-New – a revamped version of the Superjet 100 – will be ramped to 20 aircraft, while the first six Irkut MC-21-310s will be completed.
The -310 is the Russian-powered variant of the MC-21, fitted with Aviadvigatel PD-14 engines, while the SSJ-New will be equipped with PD-8s.
United Aircraft (UAC) will also build the initial pair of Ilyushin Il-114-300 turboprops, the strategy states.
Capacity will be supplemented by production of three Tupolev Tu-214s in 2023 and seven in 2024, increasing to 10 Tu-214s, plus two Il-96-300s, annually for the second half of the decade.
The SAP outline to 2030 also features 140 of the under-development UZGA TVRS-44 regional turboprop, as well as more than 150 of its new LMS-901 utility aircraft – contributing to a total output of over 1,000 fixed-wing airframes.
TECHNOLOGICAL RESOURCES
But the strategy sets out a substantial number of measures needed to support the industry, stating that consolidation of efforts from governmental, scientific, educational and supplier communities is necessary to create a "favourable legal, investment and business climate" and ensure adequate technological and personnel resources.
The human resources aspect is particularly pressing. UAC had expressed concern about the difficulties of recruiting sufficient personnel in late 2021 – months before the Ukrainian conflict – and the complications of offering attractive salaries while competing against other industries, especially IT, for talented staff.
State technology firm Rostec has launched a large-scale scheme, Wings of Rostec, for training aviation industry engineers, in co-operation with UAC, United Engine and Russian Helicopters.
Rostec aimed to accept some 2,600 graduates to the scheme in Moscow alone during 2022. The airframer Aviastar stated in the same year that it was hiking salaries in a bid to employ 1,500 production personnel.
SAP's outline strategy says actions should be implemented for "continuous education and training" of specialists, and guaranteed employment with aviation suppliers.
But it also seeks to overcome a number of persistent domestic problems for suppliers, such as a lack of sufficient competency in supply chain management, product integration, marketing, and the design and availability of aircraft components.
There are "still gaps to be filled" in quality management and other areas, and the relative absence of aftersales service systems can hamper domestic suppliers.
SAP adds that the Russian economy also suffers from "systemic problems", such as expensive credit resources, difficult pricing schemes for defence orders and supplier-selection processes aimed at reducing product cost – with potential negative effects on quality.
It says the regulatory framework ought to be improved for managing suppliers and the quality of design, certification, production and maintenance, while "elimination of bureaucratic and financial barriers" and other support measures to small and medium enterprises should be developed.