Middle Eastern carrier Emirates has unveiled a new standard livery for its fleet, which primarily features a modified version of the United Arab Emirates flag design on the fin.
The latest livery is the third iteration of the Dubai-based airline's colour scheme, and includes changes to the wing fences and an enlargement, by one-third, of the carrier's name in gold on the fuselage.
Emirates says the fin design includes a "more dynamic and flowing" version of the national flag, with three-dimensional artwork.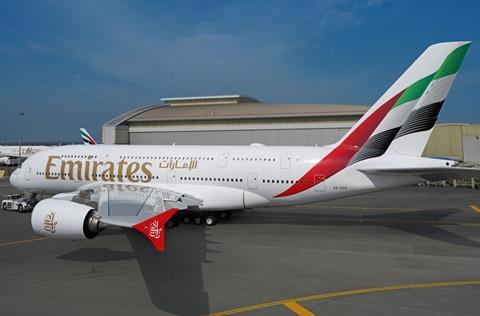 The carrier operates Airbus A380s and Boeing 777-300ERs, but has orders for A350-900, 787 and 777X twinjets.
One of its A380s (A6-EOE) is the first to be painted in the new scheme and will conduct its first service, to Munich, on 17 March.
"We're refreshing our livery to keep it modern, without losing the key elements of our identity such as the UAE flag on our tail fin and the Arabic calligraphy," says Emirates president Tim Clark.
The outer side of the wing fences will carry the Emirates logo, a stylised version of the carrier's name in Arabic, while the inner side – visible to passengers – will have the UAE flag colours.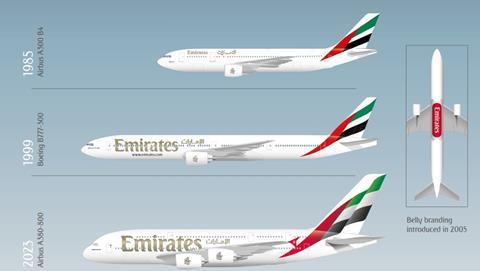 Emirates commenced services in 1985 and has since only undergone one livery change, when it introduced its first 777-300 in 1999.
It expects to have 24 aircraft, including 17 777s, to be repainted by the end of this year and its initial A350 – due in August 2024 – will be delivered with the refreshed branding.