Aeroflot has retrieved an Airbus A330-300 from Colombo, after several days of wrangling after the twinjet was impounded by Sri Lankan authorities.
It departed for Moscow Sheremetyevo on 6 June, apparently after intervention to overturn a court order which led to the detention. Russian federal air transport regulator Rosaviatsia confirms the aircraft's return.
The Sri Lankan foreign affairs ministry says the twinjet – which arrived from Moscow and was due to depart Colombo's Bandaranaike on 2 June – had been prevented from leaving by a commercial high court.
It said the matter related to a "commercial dispute" between Irish leasing vehicle Celestial Aviation Trading 10 and the Russian flag-carrier, a dispute which also involved a second defendant, the acting head of Sri Lanka's airport and air navigation service.
Ports, shipping and aviation minister Nimal Siripala de Silva had indicated, on 5 June, that the government was not intending to step into the legal row.
He said the commercial court had ruled that the order did not bind the airport or air traffic control, and that the civil aviation authority had been "relieved from this issue" and was "in a position to release the aircraft".
"The government has taken the step now not to give any orders to court," he added. "We have committed to the rule of law not to interfere with the court system."
The aircraft carried the Bermuda registration VQ-BMY before the Russian government re-registered the jet as RA-73702 in response to sanctions over the Ukrainian conflict.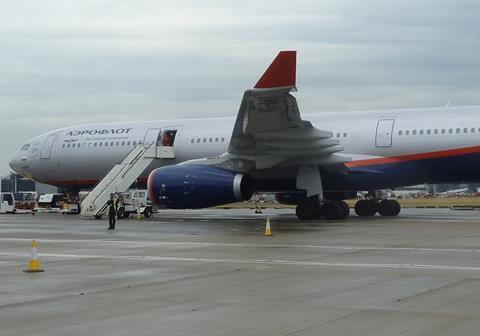 Powered by Rolls-Royce Trent 700 engines, it was originally delivered to the airline in 2012 and was owned by GECAS, before being absorbed by AerCap through the two companies' merger.
Rosaviatsia had worked to resolve the issue with Sri Lanka, pointing out that the two governments have "long-term friendly and constructive relations". Passengers who had been booked on the original return flight, SU289, had to be accommodated in hotels.
Aeroflot suspended services to Colombo following the A330's detention, owing to the inability to guarantee "unhindered flights" to Sri Lanka.
Lessor AerCap had recently disclosed that it had 113 aircraft on lease to Russian operators that it was unable to retrieve, and that it was taking a $2.7 billion impairment charge on the assets.