Aeroflot Group is aiming to raise at least Rb80 billion ($1 billion) through a capital increase involving the placement of new shares, in order to strengthen its liquidity.
Although it had previously prepared to place up to 1.7 billion shares, the Russian operator says it has yet to determine the number of shares to be included in the offering, as well as the price.
But it states that the Russian government is likely to take part in the share acquisition in order to maintain its majority shareholding of 51.17%.
Aeroflot Group is offering the shares through a combination of pre-emptive shareholder rights – the period for which expired on 1 October – and an open public subscription.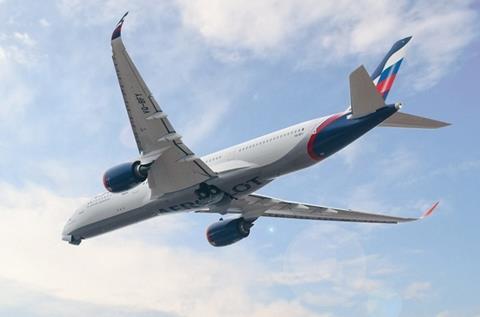 It has received pre-emptive requests for just under 987 million shares, including nearly 870 million from the government.
The company is to offer about Rb39 billion of shares to institutional investors, and Aeroflot Group will start meeting investors on 2 October.
"Additional equity capital raised via this offering will put the Aeroflot Group on a firm footing as we continue our recovery from the impact of [the pandemic] and build for the future," says chief executive Vitaly Saveliev.
Aeroflot Group says it plans to use the proceeds for "deleveraging" as well as for general corporate purposes. VTB Capital is acting as the sole co-ordinator and bookrunner.
Saveliev claims the Russian passenger air transport market provides a "sizeable long-term structural growth opportunity".
"We believe that the worst effects of the pandemic are now behind us," he stated when the process commenced on 21 September.
"Operational volumes on the Russian domestic aviation market, Europe's largest, are recovering strongly. And we are now resuming service on international routes as well."
Saveliev argues that Russia still represents an "underpenetrated" market for air transport, and that Aeroflot Group – with its four carriers – covers all the major market segments.