Central European budget carrier Wizz Air has turned in a second-quarter operating profit of €57 million ($66 million), but is expecting an operating loss of €200 million in the third as the company enters the winter season.
Chief executive Joszef Varadi says the quarter showed the airline's "return towards" pre-crisis traffic levels – its capacity in August nearly matched the August 2019 figure – with more passengers flying despite "lingering restrictions". Loads for the quarter averaged around 80%.
Unit costs excluding fuel in the three months to 30 September were still 12% higher than pre-crisis but "continued to "normalise", he adds.
Wizz Air aims to increase its fleet for summer 2022 by 26 aircraft compared with summer this year, with advance deliveries from its backlog and extension of short-term leases.
It expects the fleet to reach 170 aircraft by the end of the first half of the 2022-23 fiscal year – a capacity increase of more than half compared with summer 2019.
"This will allow us to maximally take advantage of market opportunities and next year's peak season," says Varadi.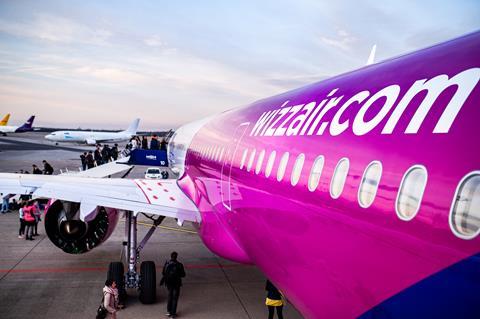 Wizz Air has extended its network, even during the initial stages of recovery, to cover 44 bases – including expansion of its Italian presence to bases in Rome and Naples and, shortly, Venice.
It points out that new air services agreements between Ukraine and the European Union will enable the carrier to place seven Airbus A321neos at bases in Kiev and Lviv next summer, increasing the Ukrainian fleet to 11 aircraft.
"Our investments in network, fleet and people are laying the foundation for the exceptional opportunity we believe [2022-23] will represent," says Varadi.
He acknowledges that, given the continued effects of the pandemic, the airline is "stimulating demand with pricing", and states that "volatile" foreign exchange and commodity markets are affecting the airline's financial performance.
Wizz transported 12.5 million passengers over the first half to 30 September, with load factors averaging 75%, and generated revenues of €880 million. Its net loss halved to €121 million. The expected third-quarter operating loss "may carry over" into the fourth, says the airline.