Middle Eastern budget carrier Air Arabia has turned in a full-year net profit of Dhs720 million ($196 million), following the easing of travel restrictions and a recovering demand for air travel.
The Sharjah-based operator's fourth quarter – which resulted in a net profit of Dhs467 million – was its fifth consecutive profitable quarter.
Over the year the carrier generated revenues of Dhs3.1 billion. Across all its hubs the airline carried 6.7 million passengers.
"Air Arabia's full-year record profitability is a testament to the strength of the business model we operate, the group's management team, as well as the diversification and growth strategy adopted," says chairman Sheikh Abdullah Bin Mohammad Al Thani.
He points out that the airline achieved the performance despite the restrictions and disruption from the pandemic, and that the figures signal a "steady recovery for the industry".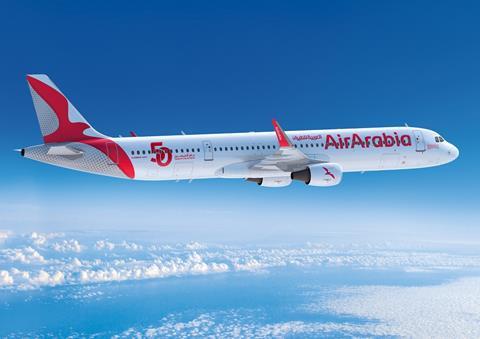 Air Arabia's fleet has expanded to 58 aircraft including six long-range A321LRs.
It developed its network last year with seven routes from Abu Dhabi – where it has established a joint-venture operation – plus 16 and 15 routes respectively at its Air Arabia Maroc and Air Arabia Egypt divisions.
"While we continue to operate under the impact of [the pandemic] we remain confident that the ease on travel restrictions will continue to help the industry in its path towards recovery," says Al Thani.