Air Arabia's joint-venture Pakistani carrier Fly Jinnah is set to commence flights from Karachi having secured its air operator's certificate and licence.
Fly Jinnah will become the fifth private airline in the Asian state.
It says it has passed "rigorous" inspections from the Pakistani civil aviation authority, and been granted the operating authority, but has yet to fix a date for launching services.
Fly Jinnah has been established by Sharjah-based Air Arabia in co-operation with the local Lakson Group.
"A lot of hard work has been put into achieving this outcome," says Fly Jinnah chair Iqbal Ali Lakhani.
"We look forward to launching Fly Jinnah's operations, serving the strategic vision of Pakistan's travel and tourism sector, and contributing to the country's economic growth and job creation."
Fly Jinnah will initially use three Airbus A320s, flying domestic routes. It has been assigned the IATA designator code '9P'.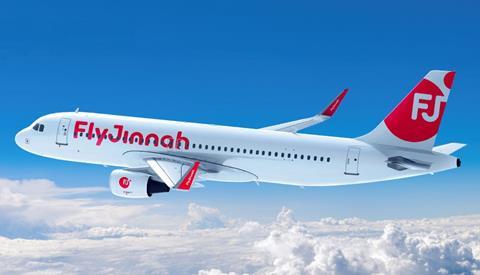 "All aircraft cabin interiors will be fitted with world-class comfort seats, offering one of the industry's most spacious economy cabin seat-pitches," the carrier claims.
Fly Jinnah expects to serve domestic destinations for about a year before expanding to international routes.
"This milestone reflects our commitment of maintaining the highest possible safety standards across the airline operations while providing the highest value to all our customers," says Air Arabia group chief Adel Ali.
"We are confident that Fly Jinnah will add significant value to the air transport sector of Pakistan."
Air Arabia and Lakson Group had disclosed their aim to set up a joint-venture carrier about a year ago, and Ali had expected it to be operating by mid-2022.