Air Astana is establishing a freight division, Air Astana Cargo, which will use three Boeing 767-300ERs which are being retired from the airline's fleet and modified for cargo transport.
It will put the initial aircraft into service on 26 May – in a "semi-cargo" layout, following modification in Almaty – with a second to be converted in July. The timing for the third is yet to be decided.
While several airlines have temporarily modified passenger aircraft for freight transport, in response to the coronavirus crisis, Air Astana says its 767 switch will be "permanent".
"A decision on conversion to full freighter configuration to be made by the end of July," the carrier tells FlightGlobal.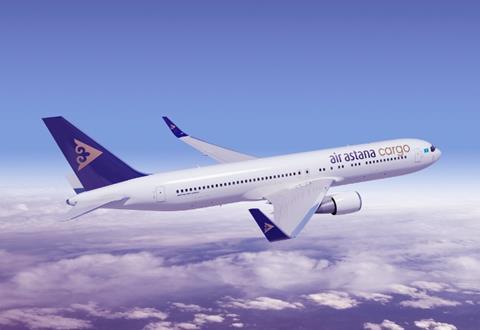 All three 767s are Pratt & Whitney PW4000-powered airframes, and are relatively young – just six or seven years of age. They are owned by Air Astana.
The carrier says the decision to set up Air Astana Cargo follows a "strong increase" in regional freight transport demand in recent months.
Air Astana adds that the action follows a strategic review of its broader fleet plants, particularly given the coronavirus situation.
The first aircraft is having all its seats and passenger amenities removed, and technical documentation updated, to provide additional capacity beyond that achievable by simply putting cargo on seats.
"We'll be able to considerably increase the volume of transported goods and offer our customers more flexible conditions," says director of freight Zhanna Shayakhmetova.
Air Astana says there is currently "substantial demand" for carriage of medical equipment and supplies to destinations across Kazakhstan, Central Asia and Europe.
The airline's fleet revamp includes gradually retiring its Boeing 757-200s as well.
Air Astana is replacing the Boeing fleet with a batch of eight Airbus A321LRs. The first entered service in October last year, and the carrier says the coronavirus situation is "accelerating" the fleet modernisation.