Air Baltic has turned in a first-half net loss of €61.5 million ($72.3 million) but is encouraged by the upturn in bookings over the summer season.
The airline's revenues were down by 40% – to €50 million – against the interim last year, as the six-month passenger figure sank.
But the carrier's chief, Martin Gauss, says that Air Baltic has been able to transport a larger number of passengers over the summer months than last year.
Passenger numbers were up 90% in June and 38% in July, although these figures are measured against the crisis-affected baseline.
Gauss also points out that the interim loss has been reduced by two-thirds compared with the €185 million net deficit for the first half of 2020.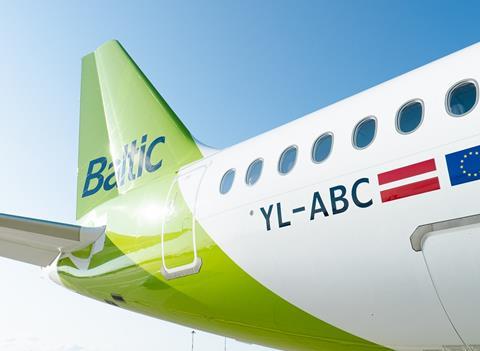 He says the summer has "seen more promise" while the airline has also exercised cost control and concentrated solely on A220 operations.
Air Baltic has received two more A220-300s within the past two weeks – YL-ABB and YL-ABC – taking its total to 29 of the type.
"We are now in a much better position for the future return to normal," says Gauss.
Air Baltic is in line to receive a €90 million injection of equity from the Latvian government, its main shareholder, to assist the airline in its recovery.