Latvian carrier Air Baltic is rescheduling the delivery of its remaining Airbus A220-300 fleet, aiming to complete their introduction by early 2024.
The airline, which has taken 22 of its 50 ordered A220s, says it has reached an agreement with the airframer to rejig the delivery schedule for the outstanding 28 aircraft.
It had previously signalled that it would have all 50 aircraft in service in 2023, but says the agreement pushes the completion back to 2024.
Air Baltic chief executive Martin Gauss says the air transport crisis has spurred the airline to accelerate its switch to a single-type fleet based on the A220.
"It allows us to minimise complexity and benefit from the additional efficiency provided by the aircraft," he says.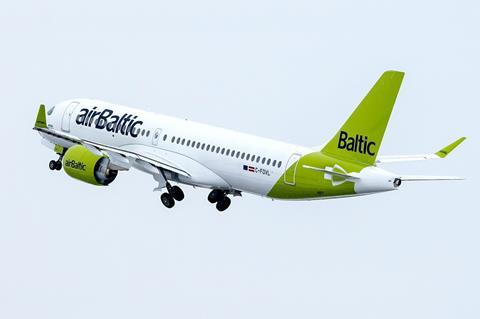 Air Baltic will take three more A220s by the end of this year as part of the delivery plan.
The Riga-based airline has four Boeing 737-300s and a dozen Bombardier Q400s in storage, which will be phased out.
Air Baltic also holds options for 30 more A220s. It says the type has performed "beyond the company's expectations".