Air Baltic has taken its fleet of Airbus A220-300s to 40 aircraft, receiving the latest twinjet in a colour scheme reflecting the Latvian national flag.
The airline unveiled the livery on the aircraft (YL-ABN) during a ceremony at Montreal Mirabel.
It will join another A220 (YL-CSL) which already carries a similar flag design, introduced in 2018 as part of a special series of paint schemes representing the three Baltic states.
Air Baltic ordered 50 A220s – all the larger -300 variant – and its fleet solely comprises the model.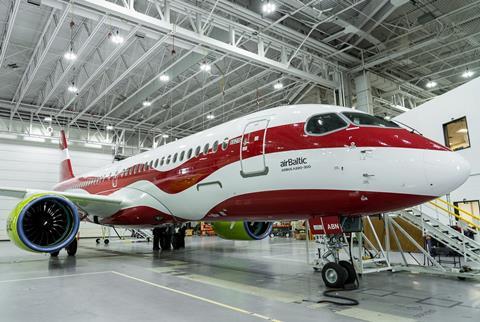 "Over the years, the aircraft type has grown to be the backbone of our operations, and we continue to be a proud ambassador of it," says chief executive Martin Gauss.
The latest aircraft, powered by Pratt & Whitney PW1500G engines, will be brought into the airline's fleet in April.
Air Baltic says the A220, the first of which received in late 2016, has performed "beyond the company's expectations".
"This aircraft symbolises a long-standing collaboration and continued partnership with Air Baltic as we are pursuing our shared journey to bring passengers the most sustainable and comfortable flying experience," says Airbus Canada's senior vice-president for customer satisfaction, services, and A220 product policy Rob Dewar.