Latvia's Air Baltic is to cut its workforce by up to 250 personnel in a measure to stave off the impact of the coronavirus outbreak.
Air Baltic, which employs around 1,600 staff, says it will "temporarily" reduce the workforce – mainly by cutting crew.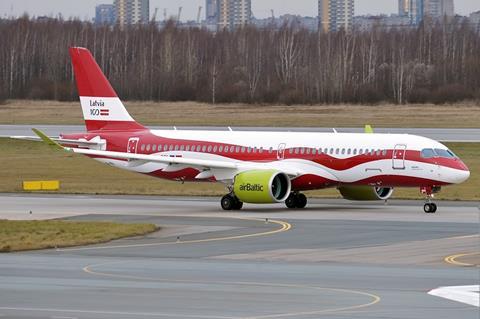 It says it will seek voluntary lay-offs, unpaid leave, and other measures including termination.
Air Baltic chief Martin Gauss says the decision is "hard but necessary", and that the airline – having had a "positive start" to 2020 – is facing "extraordinary circumstances".
"We must do this now to be able to rehire people and be back on our growth path once the situation improves," he adds.
"Right now, there is no option to continue as usual – flights need to be cancelled, aircraft grounded, we see a sharp and unexpected decline in bookings."
It has already cancelled 580 flights over the two months of April and May, suspending services to the Italian cities of Milan, Rome and Verona, as well as Tel Aviv.