Air Baltic has taken delivery of its first Airbus A220 with an increased seating configuration allowing it to accommodate up to 148 passengers.
The Latvian carrier is aiming to take delivery of eight A220-300s this year – part of its overall order for 50 of the type.
It had previously been able to seat 145 passengers on the twinjet.
But chief executive Martin Gauss says the latest aircraft is approved to operate with 148 seats, and the carrier intends to recertify its existing jets to match the higher capacity.
"[This] will further drive the efficiency of our operations," he adds.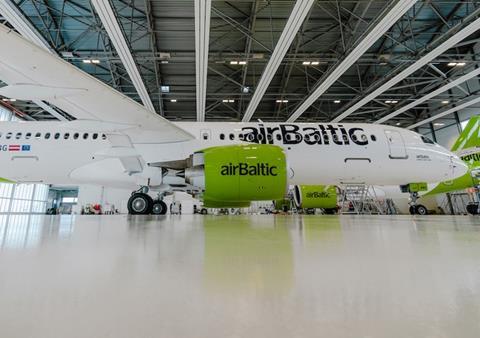 Air Baltic's new aircraft – powered by Pratt & Whitney PW1500G engines – is registered YL-ABG, and takes the airline's A220 fleet to 33.
It has exclusively used the A220 for its operations since May 2020. The airline says the twinjet has "performed beyond the company's expectations".
Airbus secured updated certification from the European Union Aviation Safety Agency last year, allowing the maximum capacity on the -300 to rise to 149 seats with the introduction of a modified overwing exit slide.