Spanish operator Air Europa is to lease four Boeing 787s from the Scandinavian long-haul start-up Norse Atlantic Airways.
The 18-month agreement comprises sublease of two 787-9s and two 787-8s.
Norse Atlantic says the deal will generate "positive cash-flow" for the airline, by making use of aircraft which would not otherwise have been fully utilised in the carrier's early phase of operations.
Chief executive Bjorn Tore Larsen says the sublease is a "compelling opportunity" for the new airline.
"The agreement strengthens our already-solid financial position as we continue to stay true to our strategy of cautiously entering the market and ramping-up based on customer demand," he adds.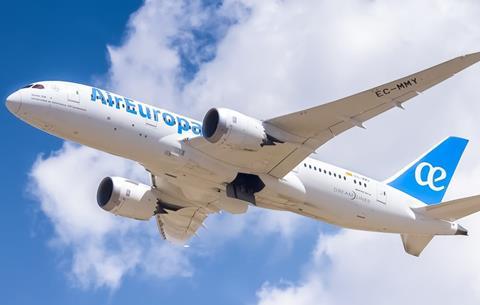 Norse Atlantic will transfer the 787s to Air Europa in the second quarter, with finalisation of the agreement expected at the end of April.
The Scandinavian carrier has been preparing to start services in June, operating transatlantic sectors, and intends to open ticket sales this month.
"We strongly believe that the demand for transatlantic travel will eventually bounce back with full force," says Larsen.