Air France-KLM Group has described its rights issue as successful, after it was oversubscribed by 16%.
The company has generated €2.256 billion ($2.35 billion) in final gross proceeds – of which around €1.61 billion is in cash – as a result of the capital increase.
These proceeds will be "mostly used" to speed up the repayment of state aid to the company, it says, and to bring down its levels of debt, enabling it to reduce associated financial costs.
Air France-KLM says the rights issue generated "strong demand" from both current and new investors, with the French and Dutch governments participating to their full extent in order to maintain their respective shareholdings of 28.6% and 9.3%.
This illustrates "confidence" in the company's performance, it adds.
Among the new investors is logistics firm CMA CGM which has taken a 9% stake in Air France-KLM. Other major shareholders include China Eastern Airlines with 4.7% and Delta Air Lines with 2.9%.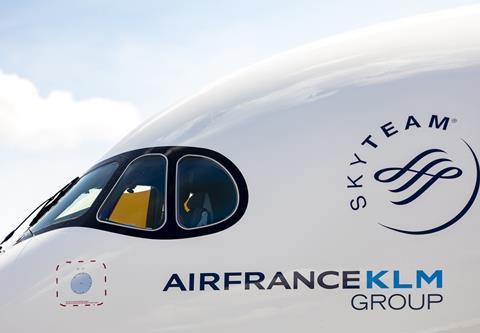 Total demand, after the subscription period closed on 9 June, amounted to around 2.24 billion shares – which, at the set price, equated to some €2.6 billion – which showed the transaction was "well oversubscribed", says the company.
It issued a total of 1.928 billion new shares, including 1.83 billion on an irreducible basis, leaving only a partial allocation of 96.6 million for reducible orders.
"Success of our capital increase is a strong demonstration of the confidence that our existing shareholders and new investors have in the prospects of Air France-KLM," says chief executive Ben Smith.
"This…will allow us to emerge with a stronger balance sheet and increased strategic flexibility."
Air France-KLM says it will allocate about €1.7 billion to repayment of pandemic-related assistance, to "free itself" from the conditions set by the European Commission framework. The remainder of €600 million will be used to cut net debt.
It says the transaction is a "significant step" in its broader €4 billion programme to reinforce the company's financial position. The company is aiming for a 7-8% operating margin in 2024, and says it is confident that "no further dilutive measures will be needed".