Air Greenland has become the third operator of the Airbus A330-800, following delivery of the single example ordered by the airline.
The carrier formally received the Rolls-Royce Trent 7000-powered twinjet on 30 November, according to the airframer's latest delivery figures.
Only seven A330-800s – the smaller variant of the A330neo family – have been handed over, including four to Kuwait Airways and two to Uganda Airlines.
Eleven -800s have been ordered in total.
Air Greenland is to use the jet to replace its older A330-200 (OY-GRN), one of the earliest -200 airframes, originally delivered to Belgian operator Sabena in 1998, barely a year after the variant's first flight.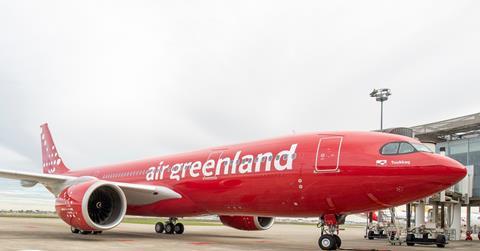 The new aircraft – delivered to Greenland with a 30% blend of sustainable aviation fuel – is configured with 305 seats in two classes including 42 in the premium cabin.
It will be used to operate long-haul connections to Denmark, as well as North American and other European routes, says Airbus.
Air Greenland has also signed a flight-hour services pact with the airframer which will cover maintenance and component supply.
Airbus has orders for 267 of the larger A330-900 of which 82 had been delivered by the end of November.