Icelandair is entering a strategic arrangement with Air Greenland to explore co-operation on the two airlines' networks.
Services operated by Icelandair to Greenland are being transferred to the main Reykjavik Keflavik hub from the downtown Reykjavik airport.
This will enable better connections between Air Greenland flights to Iceland, and international Icelandair flights to European and North American destinations.
Icelandair says both carriers see "common opportunities" in the linking of their networks.
"We will benefit from Air Greenland's local knowledge and investment in infrastructure in Greenland and Air Greenland will benefit from our comprehensive sales and distribution network in Europe and North America," says chief executive Bogi Nils Bogason.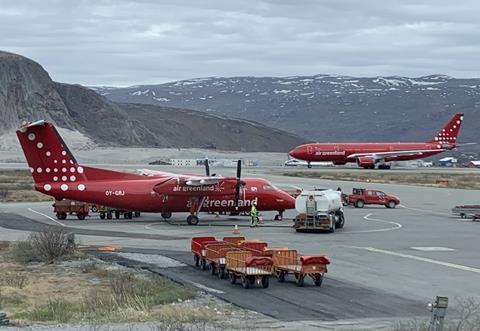 Air Greenland operates a regional network largely in the west of the territory, as well as services to Iceland and Denmark.
"We see increased co-operation as strategically beneficial for Greenland, as the connection to Icelandair's many international routes will create better accessibility for Greenland and provide better opportunities for business and leisure travellers to easily reach Greenland," says the airline's chief, Jacob Nitter Sorensen.
"Residents will find it easier to get out into the world, and the world will find it easier to get to Greenland."