Air Greenland's long-serving Airbus A330-200, one of the first of the variant to be delivered, has left the fleet and been flown to Arizona for parts supply.
The aircraft – which carried out its final scheduled service on 16 February – conducted a ferry flight from Copenhagen to the US city of Tucson on 10 March, flying a transatlantic route which enabled it briefly to conduct a circuit around the Greenlandic capital Nuuk.
Air Greenland says the aircraft underwent customs clearance at Tucson ahead of the short final sector to Marana's Pinal Airpark.
Powered by Pratt & Whitney PW4000 engines, the twinjet, almost 25 years old, is being handed over to US-based aviation services firm AAR Supply Chain.
Air Greenland introduced the A330 (OY-GRN) in 2002, after the demise of Belgian flag-carrier Sabena to which it had originally been delivered in 1998 – just months after A330-200s entered service.
It has operated in Greenland at temperatures down to minus 40°C, says the carrier's technical manager for the aircraft, Henrik Keil. He states that it has been "brought up to be a cold-weather aircraft" and "very rarely" experienced any problems, for which he credits "dedicated" technicians from Scandinavian operator SAS.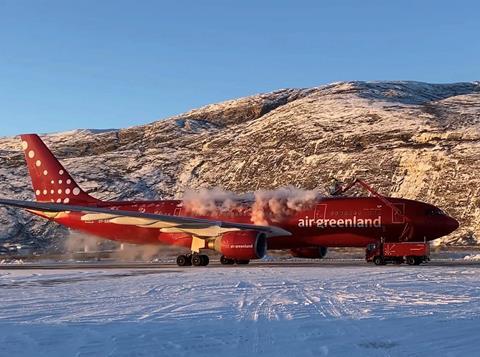 Air Greenland primarily used the A330 as a transatlantic shuttle to and from Copenhagen, although it has also served as a charter transport.
The aircraft has accumulated over 10,000 cycles with the airline. Keil says the jet will become an "organ donor", offering spares.
Air Greenland has replaced the A330-200 with an A330-800, fitted with Rolls-Royce Trent 7000 engines, which it received in November last year.