Spanish carrier Air Nostrum's joint-venture tie-up with Irish operator CityJet has been re-cleared by European competition regulators, more than three years after initially being approved.
The two airlines disclosed plans to combine and form a new regional airline group in 2018, operating under a holding company and aiming to offer wet-lease services.
Fortress Investment Group, overseeing CityJet, and Air Investment Valencia for Air Nostrum had notified the European Commission of the transaction in June 2019.
The tie-up was approved the following month, with no competition concerns arising given the sufficient number of competitors in the wet-lease sector.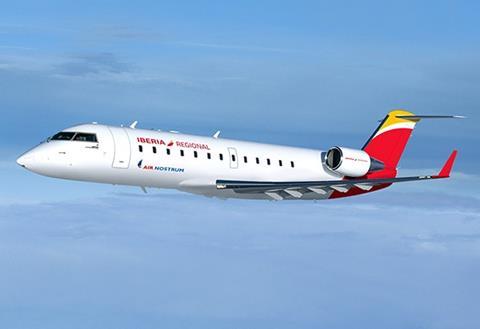 But the Commission states that it was notified again of the transaction in January this year, as the deal had "not been yet executed".
It has concluded that, since the competitive landscape and market have remained "broadly the same", the agreement still does not raise any competition issues.
Air Nostrum has a fleet of around 40 aircraft, while CityJet has about 20. Both primarily operate Bombardier CRJ variants.
Air Investment Valencia's interests include not only Air Nostrum but Mediterranean operator Melair, and consulting firm Inversiones Lineas Aereas Inernacionales.