Air Senegal appears to have dropped its order for eight Airbus A220-300s, following an agreement to lease a batch.
The West African carrier firmed an order for the twinjets two years ago, in January 2020, having unveiled a provisional agreement at the Dubai air show a couple of months earlier.
Under the agreement, deliveries of the Pratt & Whitney PW1500G-powered aircraft were supposed to commence last year.
But Air Senegal revealed at the latest Dubai air show, in November 2021, that it was entering a lease deal with Macquarie AirFinance to take five A220-300s.
These aircraft will be introduced by the carrier from 2023 and used on regional routes from Dakar.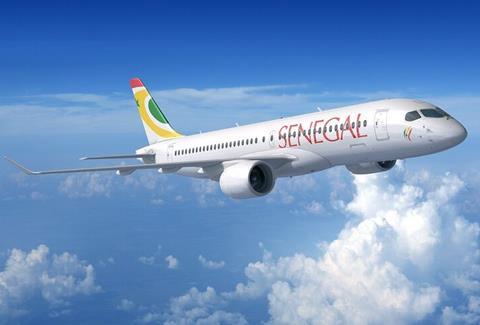 While Macquarie has been reducing its own order backlog for the A220, it still has commitments for 29 of the type with Airbus.
Airbus's latest backlog data shows that the eight A220s on direct order from Air Senegal have been removed.
Air Senegal has received an initial A220-300, with the arrival of 6V-AOA. This aircraft was delivered in the last week of December via Carlyle Aviation Partners.
Airbus ended 2021 with firm orders for 668 A220s, including 100 of the shorter -100 variant, of which 193 have been delivered.