AirAsia Group's airline units expect a "strong revival" for the year-end period, as key South-east Asia markets begin reopening to tourism.
With countries like Malaysia, Thailand and Indonesia now starting to reopen its domestic and international borders for quarantine-free travel, AirAsia Group says there has a been a "significant increase in seats sold for the immediate and near-term travel".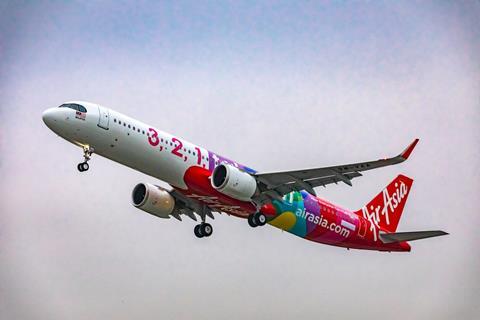 "These factors, coupled with the upcoming year-end holiday season, are expected to further stimulate a boost in key operating metrics in the last quarter of this year," the group adds.
The optimistic forecast comes amid a traffic plunge reported in several AirAsia markets for the quarter ended 30 September, on the back of domestic travel restrictions meant to curb the spread of the coronavirus.
Only AirAsia's Philippines unit bucked the downward trend — it more than doubled the number of passengers carried year on year, to 181,000. Capacity climbed 59%, while traffic doubled year on year.
AirAsia's Malaysia unit saw passenger numbers nosedive 91% year on year to just around 156,000 passengers, as a result of a ban in interstate travel for most of the quarter.
Capacity was cut 90%, while traffic plunged 91%. The carrier also flew 90% fewer flights compared to the same period last year.
Indonesia AirAsia, meanwhile, carried just over 15,000 passengers during the quarter, representing a 79% drop year on year. It saw a 78% drop in capacity, with traffic declining 80%.
Thai AirAsia reported a staggering 96% drop in passenger numbers to under 80,000, as its operations were suspended for most of the quarter in line with pandemic containment efforts.
It reported a 95% drop in both traffic, as well as capacity.