Long-haul budget carrier AirAsia X is planning to broaden the extent of a planned capital reduction, and raise additional funding through a new share issue.
AirAsia X aims to raise RM300 million from current shareholders plus another RM200 million from new investors – a total of RM500 million ($123 million).
It describes the new share issue as a "critical component" of a restructuring programme for the airline.
"There are several scenarios envisaged within our business plan and the funds to be raised are adequate for each of these scenarios," says the carrier.
As part of the financial restructuring the carrier is to broaden a planned capital reduction, reducing the issued share capital by 99.9% – rather than the previously-proposed 90%.
This will involve cutting the share capital to RM1.53 million.
"Credit arising from the proposed share capital reduction will be used to offset part of the accumulated losses," says the carrier.
AirAsia X is also intending to consolidate its stock with a conversion of every 10 shares into a single share.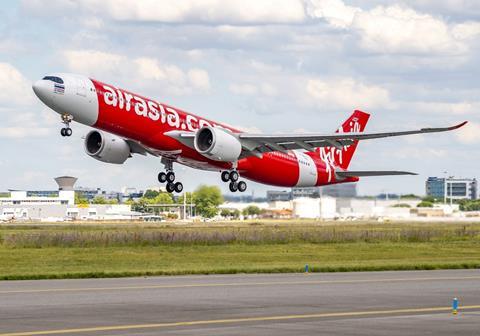 Shareholders funds after the capital reduction will remain negative, it says, but the consolidation will "provide a platform to seek fresh funding" from current shareholders.
The company admits it has faced objections from "several" lessors who are among creditors from which AirAsia X needs to obtain approval for its debt restructuring plans.
AirAsia X points out that this restructuring is necessary for the recapitalisation. "A comprehensive reset of the airline is required to provide a platform to rebuild, and a vehicle attractive enough for investors to invest in," it adds.
It says it will "continue to engage" with its creditors in an effort to "allay their concerns", stressing that the alternative is liquidation of the carrier.
AirAsia X argues that a "reset" with fresh equity and a repositioning of the airline as a regional, medium-haul low-cost carrier will provide the "best economic returns" to creditors.